BY: MARY ZAHRAN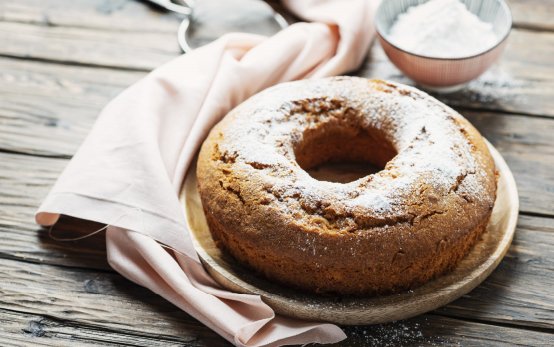 Have you ever seen a cake fly? I have, and let me tell you, it is a sight you will never forget.

I have always considered myself to be a pretty good baker. I am not a pastry chef. I don't make delicate, multi-layered confections with elaborate color schemes. I don't make fancy cakes that are painstakingly decorated to look like the Grand Canyon or the Little Mermaid's underwater palace. I make classic, no-frills desserts that people have always told me are delicious.
Unless everyone has been lying to me for the past 40 years about my skills as a baker, I trust that I am pretty competent in the kitchen.

That is, until the day when I made a cake fly.

This was no ordinary day. I was preparing a dessert for our Easter dinner, which we were sharing with people who had never tasted my famous pound cake. I planned to spend the early afternoon making the cake from scratch, nothing fancy, but something that required me to pay careful attention to detailed instructions in order for the cake to turn out the way it should.

I measured ingredients, I sifted flour, I softened butter, and I added eggs one at a time and beat each one thoroughly. I don't think I paid as much attention to the signing of my last will and testament as I did to the preparation of that pound cake.

After all, I will be dead and gone when my will is read, but, on that Easter Sunday, I planned to be alive and ready to accept compliments when the cake was served.

I slowly eased the batter into the wellgreased Bundt pan and gently placed it in the oven, taking extra care not to slam the oven door. I then tiptoed over to the sink to begin cleaning up, secure in the knowledge that my perfectly prepared cake would soon emerge as yet another of my many culinary masterpieces.

I could already hear the chorus of cheers from my grateful admirers.

Before I describe the near-catastrophe that awaited me, I must first explain the
significance of the Bundt pan.
The pan in question is neither the cheapest nor the costliest one I have ever owned, but it is the product of my long and arduous search to find the perfect pan from which I could finally remove an intact cake.

While my cakes have always been a treat for the taste buds, they have not always been a treat for the eyes. I have suffered my share of torn and crumbled cakes that either fell out of the pan in large chunks that resembled the slabs at Stonehenge or that had to be forced out with sharp utensils and lots of swearing. (I confess to the swearing. The cakes never uttered a word.)

This pan was a work of genius, and I marveled at its very existence and my good fortune in finding it. Cakes slid out of it like an Olympic skier going down a steep slope.
Little did I know that the same quality I admired about this pan would soon become its greatest flaw.

After I removed the cake from the oven, I placed it upside down on a large plate to cool. I had read in various cookbooks that doing this expedited the removal of any cake from a pan. After the cake cooled enough for me to handle it, I gently shook the pan to release it onto the plate. That is exactly the moment when the cake's inner Olympic skier made an
appearance and jumped out of the pan onto the countertop.

I then saw something I never imagined I would see. My perfect pound cake, my magnum opus, flew across the surface at lightning speed and headed straight for the edge of the counter.

What happened after that remains a mystery, but I'm pretty sure I defied some of the laws of physics to keep the cake from falling onto the kitchen floor, which had just been scrubbed the day before. Looking back now, I do have vague memories of lunging across the counter and catching the cake in midair.

The cake that I now held in my hands was nothing like the one that had originally emerged from the pan. What had been perfect form and symmetry was now only lopsided and crumbled ineptitude. Yet, somehow I managed to reconstruct my masterpiece, hide the gaping flaws, and place it on a serving plate.

When we had dessert the next day, I couldn't resist the urge to tell my story about the flying cake. After all, not every baker can make a cake and then bring it in for a landing.
Perfect Pound Cake

Ingredients
3 cups sugar
1 1/2 cups butter at room temperature
1 8-ounce package cream cheese at
room temperature
6 large eggs
3 cups all-purpose flour
¼ teaspoon baking soda
2 teaspoons vanilla extract
Directions
1. Preheat the oven to 300 degrees.
Beat the sugar, butter, and cream
cheese with a mixer on medium-high
speed until light and fluffy, about 5
minutes.
2. Add the eggs, one at a time, beating
well until blended.
3. Stir the flour and baking soda in a
separate bowl. Gradually all the
flour mixture to the butter mixture on
low speed until just blended. Add
the vanilla extract and beat on low
speed for 2 minutes.
4. Transfer the batter to a greased 10-
inch tube pan. I use Baker's Joy to
grease the pan.
5. Bake in the preheated oven until a
long wooden skewer inserted in the
center comes out clean, about 1 hour
and 20 minutes.
6. Cool the cake for about 15 minutes
and then remove. I cool the cake on
a cupcake pan that has been turned
upside down. An inverted cupcake
pan will support the weight of any
heavy item, such as a cake in a tube
pan, a pie, or a pan of brownies. It
is much sturdier than a wire cookie
rack.
Mary Zahran, who now handles her cakes with greater care, can be reached at maryzahran@gmail.com.