BY: KIM HASTY
PHOTOGRAPHY BY: MATTHEW WONDERLY
Theater people call it the ghost light. It's a light with a single bulb, usually a floor lamp of some sort, left lit on the stage when the rest of the theater is closed and dark.
Across the country, theaters have gone dark because of the COVID-19 pandemic. Art galleries and other cultural venues also have been forced to close. At risk is the livelihood of many people who earn a living only when the curtain rises. At risk, also, is an integral part of all communities, large and small.
Larry Wells, pictured above, just about always has the music in him.
"No days off, or at least not many," he said. "Even on Christmas Day, right after the presents are opened, I'm either headed to play for a
church service or to practice."
And that's the way he likes it. Figure out what you're good at, he advises the young musicians under his direction in the Fayetteville Symphony
Youth Orchestra. And figure out what you're passionate about.
"I work hard," Wells, 53, said. "But almost never do I get up in the morning and not look forward to going to work."

Wells will tell you he had 145 young musicians eager to hone their craft at the end of last year's Fayetteville Youth Symphony Orchestra season. But the musicians of the Fayetteville Symphony Orchestra and the Fayetteville Symphony Youth Orchestra have all been on their own since the pandemic forced the end of performances and group rehearsals. That's a shame when things had been going so well.
"This year has been awful … no gigs," Wells said. "But sooner or later, the show must go on. And when the bell rings, I want to be ready."

Artists are known for their resilience. Those featured on these pages are keeping the faith that, sooner or later, the show will go on. And when it does, they'll be ready.
Wells, who has a Doctor of Musical Arts degree, holds the UnionZukowski Endowed Professor of the Fine Arts position at Methodist University as a Professor of Music and the Director of Instrumental
Studies/Trumpet. He also holds a position in the Fayetteville Symphony Orchestra and the Carolina Philharmonic.

All three of his children are talented musicians. Pruette, 20 and a junior at Methodist, plays the French horn. Harrison, 18 and a freshman at Methodist, plays the tuba. Daulton, 15, is a student at Cumberland Polytechnic High School who plays the trombone.

"I'm certainly a proud dad and there's nothing like sharing the stage with your kid," Wells said. "But I never insisted that they play."
CAPE FEAR REGIONAL THEATRE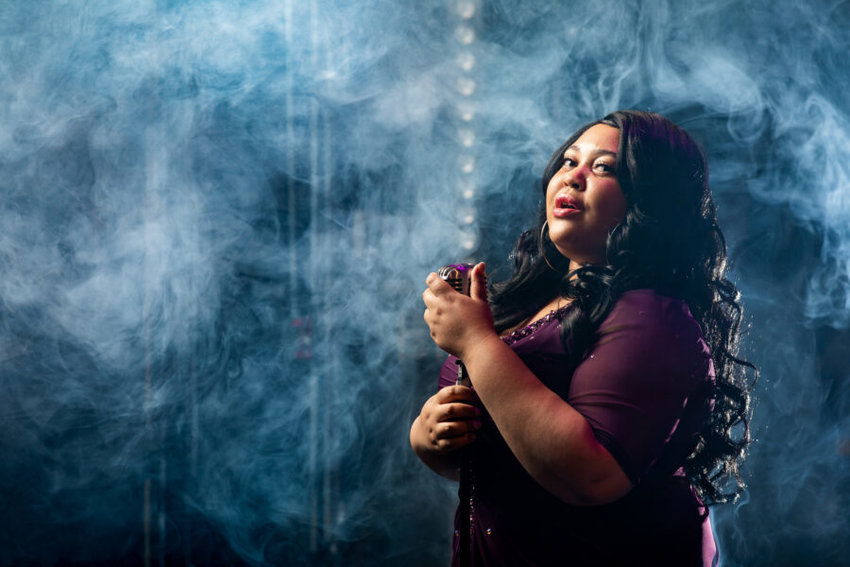 Ayana Washington, like all good actors, has grown accustomed to being prepared for all the unexpected things that go along with the magic of live theater. Once, when one of the leads fell ill and couldn't sing in a production of "Dream Girls," Washington was backstage, belting out the rousing numbers for her.

Washington is waiting in the wings again. Her last production at CFRT was last winter's overwhelming success, "Shrek." Washington was set to perform in "Jelly's last Jam" in the spring when the virus
stopped production. She'll be among the acts performing at CityView Presents Food, Wine & ART Sept. 25 at the Cape Fear Botanical Garden.
Mary Kate Burke is artistic director of the Cape Fear Regional Theatre, which has been bringing the finest in performances to our community since 1962. Back then, founding artistic director Bo Thorp formed the Fayetteville Little Theatre which would go on to change its name to Cape Fear Regional Theatre. Since then, the theater has brought magic from Camelot to Oz to its Hay Street stage and gained generations of loyal patrons.

Burke said the pandemic is a threat to arts and culture as we know it in virtually every community. Even Broadway has gone dark.
"According to an Americans for the Arts survey, only 58 percent of North Carolina arts and cultural organizations are confident that they will survive the pandemic," Burke said. "Now more than ever, this is the time to support your favorite charity."
She's grateful, she said, that CFRT was awarded a $50,000 grant from the National Endowment of the Arts. The grant has helped the theater continue its education programs. CFRT still plans to open the season with "Lady Day," a musical about the life of singer Billie Holliday. Opening night has yet to be set, but at CFRT, they are confident the curtain will indeed rise.
"We've all fallen together," said Ella Wrenn, CFRT's marketing director. "But art never dies. It's the Phoenix that goes to ash and comes back as something beautiful."
GILBERT THEATER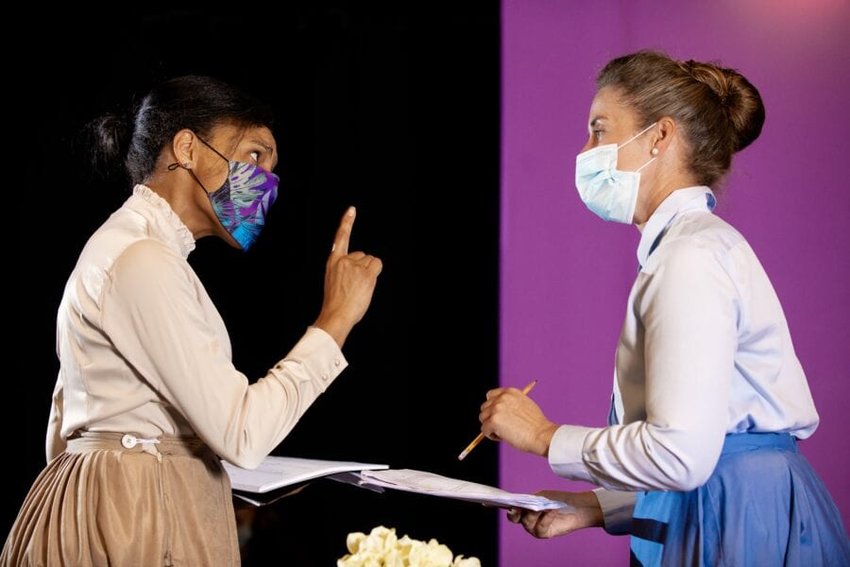 During a brief break in their rehearsal of the play "Bitter Flower" at the Gilbert Theater, Marie Swartwood Lowe and Tohry Petty break character just long enough to describe their mutual admiration.

"I'm honored that we have the chance to work together," Petty said. "But I'm also honored to call
her a friend."
"Back at you," Lowe said.
But then they are back to being brilliantly at odds in a short play that depicts one aspect in the struggle to pass the 19th Amendment 100 years ago. Petty plays Ida B. Wells, an early and passionate leader in the civil rights movement and one of the founders of the NAACP. In the play, written by Georgetown professor Jennifer Natayla Fink, the audience is given the chance to examine the racism of the white suffrage movement and the undervalued work of black suffragists. Lowe plays Jane Addams, founder of Hull House and a leader
in the fight for women's right to vote.
The play, directed by Gilbert's artistic director Lawrence Carlisle III, was one of 14 recorded in August as part of The 19th Amendment Project presented by Raleigh's Burning Coal Theatre. Each is available for viewing virtually through the end of September. Tickets for one viewing of each 10-minute play cost $2 or $25 for the entire series. For more information, go to burningcoal.org.

For Carlisle and his cast, "Bitter Flower" was a rare opportunity to practice their craft during a time when most theaters have gone dark. Carlisle was forced to cancel the theater's planned productions of "The 25th Annual Putnam County Spelling Bee" and "The Complete Works of William Shakespeare, Abridged."
"It was another difficult decision amongst months and months of difficult decisions," he wrote in a letter to patrons.

An ensemble of Gilbert actors has been able to participate in a series of socially distant murder mystery scavenger hunts at the Cape Fear Botanical Garden. Carlisle hopes the rest of the scheduled season, kicking off with "Barefoot in the Park" in October, will go on as planned.
"As I've said, it's going to take more than a little pandemic to knock us out," he said.


CAPE FEAR STUDIOS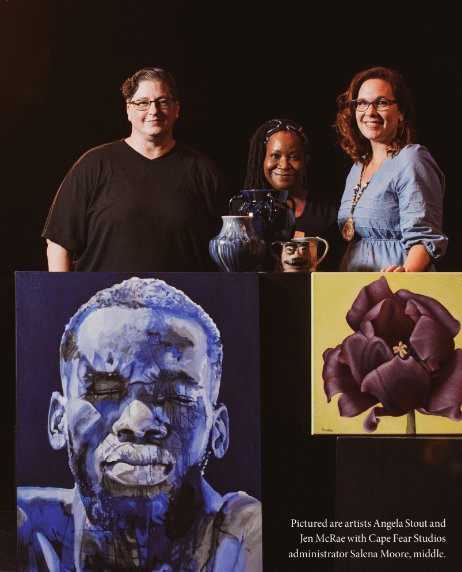 Jen McRae, a former museum exhibition designer and marketing director, happened upon her latest craft by accident. "I messed up a painting," she said. "So, I started cutting into it."
The result was a pair of colorful and unique dangling earrings that intrigued most everyone who noticed them.
"That started something that really hasn't stopped," she said. "I think of them as tiny works of art that you can wear."
McRae is one of the variety of artists at Cape Fear Studios and Gallery, a nonprofit organization at 114 Maxwell St. downtown. Cape Fear Studios was established in 1989 and features artists who express their talents through pottery, woodworking, jewelry, glass, metal, drawing, painting and photography.
Cape Fear Studios has seven in-house studios for working member artists, as well as retail space, classroom space and an art gallery for exhibits. The artists rent studio space, volunteer their time and sell their works. The studio gets a percentage of what they sell.
Angela Stout, another of the studio's artists, just about does it all. She's a sculptor, painter and printmaker.
"I've come up with a few of my own techniques," she said.
She'll be demonstrating on of her more unlikely skills of speed sculpting at CityView Presents Food, Wine & ART Sept. 25 at the Cape Fear Botanical Garden. Jen McRae will be there as well, giving those in attendance the chance to purchase her colorful jewelry.
POETRY N MOTION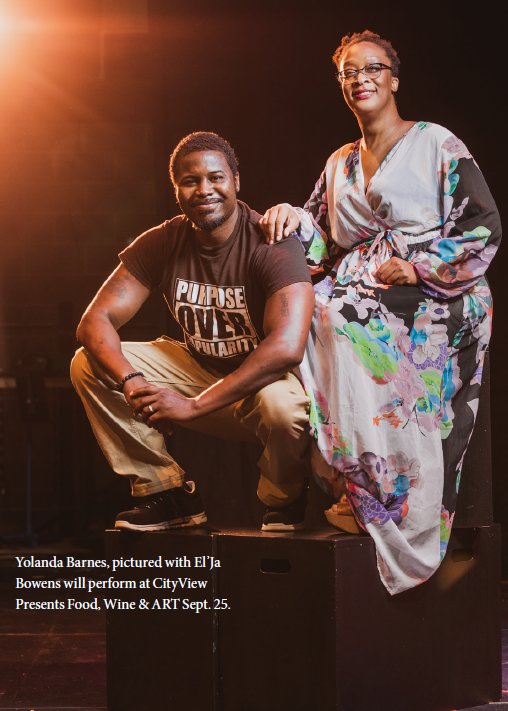 During a pandemic, or in the midst of any other strife for that matter, there is healing to be found in both the spoken word, as well as in putting pen to paper.
"That's my mantra," said 39-year-old LeJuane Bowens, better known as El'ja in poetry circles. "It can be used as a way of healing. The spoken word is a way of both entertaining and edifying people."
Bowens, an award-winning spoken word poet and author, is the founder of Poetry-N-Motion. Born in Detroit, he joined the United States Army in 2000. During his six years of service, which included two deployments to Iraq, he began to write his thoughts and ideas. In 2005, at the urging of a friend, he posted several poems online. The response proved to be an epiphany.
Bowens is the first ever poet in North Carolina to compete and win in three different Grand Slam finals. He went on to win the 22nd Southern Fried Poetry Slam alongside the Bull City Slam Team, and in 2015 was nominated for Spoken Word Artist of the Year at the 5th Annual National Poetry Awards.
Bowens is the author of two books of poetry. He helped found and currently directs the annual Southeastern Regional NC Poetry Festival. This year's event, scheduled to run Sept. 23-26, will be held virtually and will kick off with an open mic event, that is open to all varieties of artists of all ages. To sign up, go to http://sernc2020.eventbrite.com.
THE ARTS COUNCIL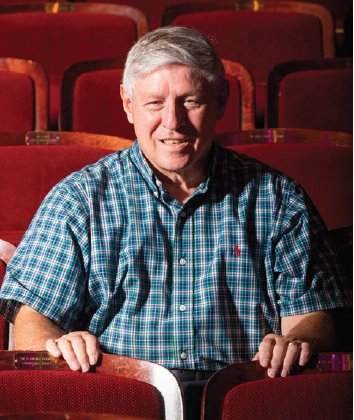 Bob Pinson has long understood the mission of The Arts Council of Fayetteville/ Cumberland County. These days, he realizes it more than ever.

"This pandemic has given us more clarity," said Pinson, who took over as interim president and CEO in May with the resignation of Greg Weber.
"We've been able to realize what our role truly needs to be. We're able to push and ask for governmental funds when others can't."

Pinson is accustomed to navigating challenging times. When Arts Council Board of Trustees president Jean Moore asked him to take the interim position, he didn't hesitate. He and Moore also served together at St. John's Episcopal Church when she was head of the church vestry and he was parish administrator. He is a longtime Fayetteville resident who had been operations manager at The Arts Council for nine years.

"My first task when I came here was to put together the International Folk Festival that year," he said. "And I had a month to do it."

The International Folk Festival is one of The Arts Council's signature events. Alas, the pandemic forced the cancellation of the event, which had been scheduled for Sept. 26. Pinson said plans are in the works for a virtual presentation that will showcase the best of the festival along with some newer offerings, such as cooking demonstrations. "Our community is so proud of our cultural diversity, and of how that diversity makes us stronger," he said. "We don't want to go a year without putting out that message."