By Earl Vaughan Jr.
HOPE MILLS - It has been 30 years since the football team from South View High School overcame the odds and made an unprecedented march to the school's lone state 4-A football championship.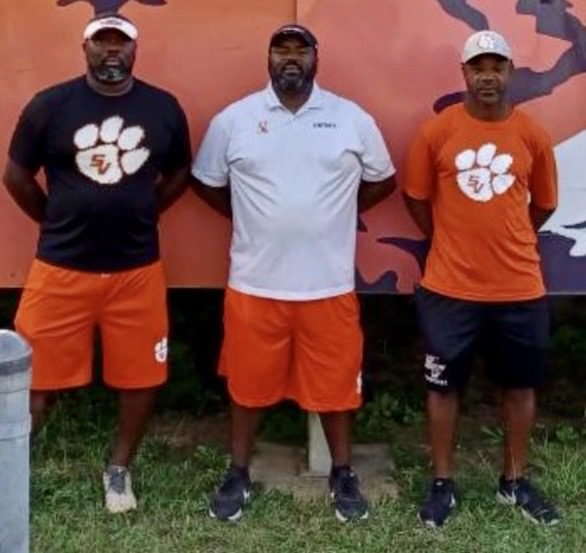 Tonight, at Randy Ledford Field, many of those same Tigers will return to their alma mater for a celebration of that miracle run from 1991, but at least three of the members of that team won't have to do a lot of traveling to get there.
Rodney Brewington, South View's head coach, and assistants Marcus Wall and Jamez Griffin will be on the sidelines with this year's Tigers and will also take part in the celebration with all their returning teammates.
Brewington said the memories of 1991 are still fresh, noting that to him it doesn't seem like it's been 30 years, but more like only 30 minutes.
"All year long, we were growing in our belief as a team and what we were capable of,'' Brewington said that 1991 season.
The Tigers were far from perfect that year. They suffered a pair of narrow losses, 13-12 to Seventy-First and 27-20 to E.E. Smith. It was not until the final night of the regular season when they downed Cape Fear 35-7 and Westover stunned E.E. Smith 3-0 that the Tigers clinched the third state playoff spot from the tough Mid-South 4-A Conference. They entered the postseason at 8-2, having won five of their last six games.
"We felt like we deserved to be there,'' Griffin said. "We did get a little hand up by E.E. Smith losing to Westover. That got us that ticket in, and we didn't squander that chance.''
As a No. 3 qualifier, South View spent the bulk of its state playoff run on the road, knocking off Elizabeth City Northeastern, Raleigh Millbrook and Northern Durham in its first three games before heading to a memorable showdown with powerful New Hanover at Legion Stadium in Wilmington.
The Wildcats were led by quarterback Trot Nixon, who was also a star baseball player who would go on to play for the Boston Red Sox and earn a World Series ring.
In many ways, the New Hanover game was a microcosm of the entire Tiger season. South View found itself battling from behind against New Hanover, at times by as much as two touchdowns.
The game went down to the final play when center Kevin Coleman snapped the ball to quarterback Del Cunningham with one second left in regulation. Cunningham found Eric Graham for a touchdown to tie the score with time expired.
The late Jorge Rios-Marti came on to add the extra point, and South View was the Eastern 4-A champion, 37-36.
There was still one mountain to climb, nationally ranked West Charlotte in the 4-A championship game at the University of North Carolina's Kenan Stadium. West Charlotte was coached by the legendary Tommy Knotts, who went on to guide Independence High School in Charlotte to a state record six consecutive 4-A and 4-AA state titles.
Griffin said the experience of the previous weeks in the state playoffs convinced the Tigers they belonged at this level. "It was a bunch of rag-tag kids from Hope Mills and the surrounding area,'' he said. "We dreamt of being there, but we didn't know how to be there.''
The key, he said was the influence of head coach Bobby Poss, who had already won two state 4-A titles at Seventy-First before taking over the South View program. "He helped navigate that for us,'' Griffin said. "Once we got to that stage and saw we could compete, there was no looking back.''
Griffin still considers Poss one of the greatest motivators he's ever known. "He's the only person I know who could get a kid to run through a wall and not ask a question about it,'' Griffin said. "He could get any kid to buy in to what he was trying to accomplish. He made everyone feel they were a vital piece of the puzzle.''
The championship game with West Charlotte was very different than the New Hanover game. While New Hanover had featured an offensive explosion by both teams, South View and West Charlotte only managed a touchdown each, with the game coming down again to the kicking of Rios-Marti.
He attempted and made his lone field goal of the season to lift South View to a 10-7 victory.
Wall, the offensive star of the Tigers that year, didn't get into the end zone in the title game, but he set what was then a N.C. High School Athletic Association Kenan Stadium record for most rushing yards in a 4-A title contest, rolling up 178 yards.
"It was the persistent work we put in,'' Wall said. "Some called it luck. We called it being prepared. It goes back to unity and playing for each other.''
Now, 30 years later, Brewington, Griffin and Wall as coaches are trying to do more than share the memory with the members of the current Tiger football team. Their hope is to give them to chance to create memories of their own.
"For me, it's getting the kids to believe,'' Wall said, "to know anything is possible if you put the work in.''
Brewington agreed. "We've seen the promised land,'' he said. "We've touched it, ate the fruit and were able to experience the benefits.''
Now Brewington's job is to get the current team to believe in themselves and trust the process. "That experience let me know there is no such thing as 'can't', '' he said. "If you put in the hard work and do the right things, you can definitely reach your goals.''
A variety of special events are scheduled for tonight's 7:30 game with Lumberton.
All the 1991 Tigers are invited to come to the school and join in the pre-game meal with this year's team. The entire group will watch a highlight film of the 1991 season.
The former Tigers will have their own VIP section set up on a corner of the football field.
During the halftime ceremony, members of the 1991 team who return for the game will be introduced to the fans.