BY: KIM HASTY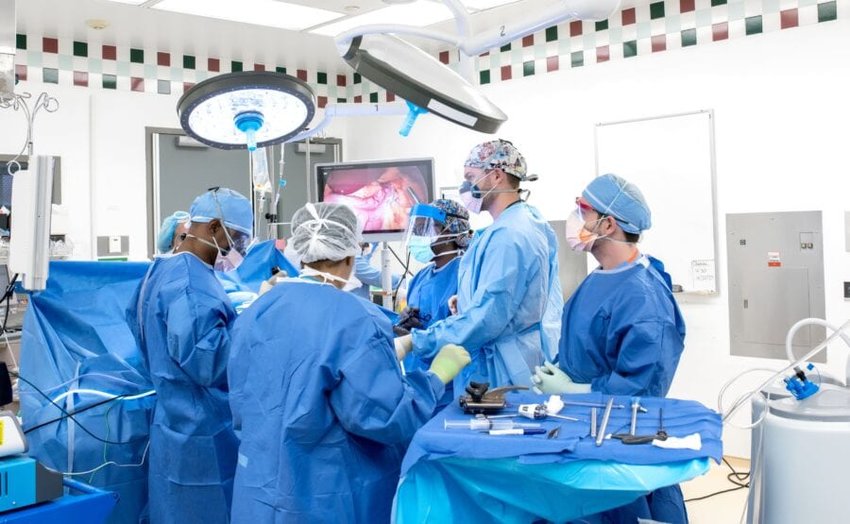 All the fresh-faced young people walking the halls at Cape Fear Valley Medical Center surprised some folks at first.

Every newly-graduated physician enters a residency program for three to five years for hands-on training in a chosen specialty.

When Cape Fear Valley Health took in its first group of residents in 2017, any skepticism there may have been about those young faces quickly faded.

"Now everyone says, 'Where are the residents?' whenever they're not around," said Kelly Van Fossen, D.O., who heads Cape Fear Valley's surgical residency program. Those residents are part of the reason that Cape Fear Valley Health has been able to make such impressive strides in transitioning from a community hospital to a regional referral center, one that stresses the academic side of medicine and thereby elevates the overall level of care.

"The residency program raises the level of expectations," said Joel Horowitz, M.D., Cape Fear Valley's Medical Director of Surgical Services. "It raises expectations both from what the institution is able to offer and for the kind of people we're bringing in to train these new doctors. We now have a lot available here in town that we did not have in the past."
The residency program also bodes well for meeting a statewide shortage of physicians. An estimated 50 percent of residents go into practice within 50 miles of where they complete their residency. Cape Fear Valley Health's residency program already has grown to 130 residents and 3 fellows with a goal of growing to a capacity of 300.
The construction of the planned five-story Center for Medical Education and Research off Melrose Road will help handle the program's expected growth.
"Lots of new exciting things are happening and a lot of it is centered on this new educational piece," Horowitz said. "Part of the demand of the training
programs is that you're training these new doctors with the latest techniques. It puts pressure on us to raise our level."

He points to the recent additions of the likes of plastic surgeon Leif Nordberg, M.D., surgical oncologist Pragatheeshwar "Dr. Prag" Thirunavukarasu, M.D., and neurosurgeon Prithvi Narayan, M.D.
"In the last six months to a year, our referral volume has increased dramatically," he said.

"That means that patients don't have to leave town for these services." Horowitz, who came to Fayetteville more than two decades ago, is in a new position created to help manage the medical center's growth in surgical services across all its regional campuses.

"Part of my goal is to reach out to all the different departments and ask them what their one-year plan is, their five-year plan and their 10-year plan," he said. "That's so we can see what the departments feel that they need to bring in. It's part of a constantly evolving process: to come up with a game plan as we expand."

While Dr. Van Fossen is director of the surgical residency program, the entire staff participates in the residents' training.

"They start off slowly and gain responsibilities as their abilities grow and increase," Dr. Horowitz said. "I've been very impressed."

For now, Dr. Van Fossen's surgical program has 14 residents from as far away as Alaska and from as close to home as Fayetteville. The group is small enough that the residents have been able to foster a family-like bond within the group. They've also managed to foster confidence in their work.

"They've helped us elevate the level of care," Van Fossen said. "They're able to be our eyes and ears. In many cases, we're now able to have someone there 24 hours a day and seven days a week."