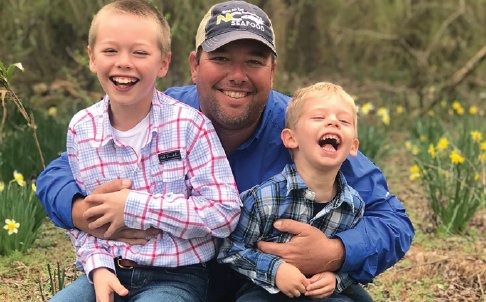 Between Greenville and Washington, North Carolina, lies a little burg named Pactolus. It is recognizable mostly from the grain silos behind Davenport's Store – the newer version, not the one across the road, where I asked James Hudson if he would please endorse my marrying his daughter three weeks after I met her.

Just east of those silos is Cherry Street. A right turn at its end puts you on a winding stretch of mostly untraveled blacktop that eventually becomes Trainter's Creek Road.
For the past 30 years, one would eventually pass Eagle Farms on the right and the left. It was the creation of my father-in-law (who did eventually offer that marital endorsement). He transformed that stretch of indistinguishable pine forest into 120 acres of catfish ponds. It is a place of aquacultural fascination that eventually produced somewhere around 15 million pounds of piscatorial table fare.
In addition to the fillets eaten with forks and chop sticks, it is anyone's guess how many have been eaten whole by the dozens of Bald Eagles swarming about and the blue herons, the cormorants and the otters. James created an ecosystem.

About five years ago, Gary Dillon came to manage the farm by way of his employment with Carolina Classics, the fish processing plant in Ayden. Gary was an immediately likable guy to someone like me, since I enjoyed doing most of the talking and Gary liked doing a lot of the listening. He had grown up in Stokes County and went to college at East Carolina.
While getting his degree, he met (and eventually married) another Piedmont native named Kristi. By the time I met Gary, there was a tow-headed, toothy son named Parker, who was all of about 5 or 6 years old.

Parker stayed close to Gary without much violation of the be-seen-not-heard colloquialism. In fact, it was rare to drag anything out of Parker at all unless encouraged to do so by Gary. I fantasize that when in Gary's truck together or in the deer blind that James designated as theirs, Parker was a motormouth.
But around loud, balding, 6-feet tall men like me, he watched and listened mostly, but grinned often at the ribbing and teasing that I persistently sent his way.
One thing Parker and I had in common was that we loved my dog, Summer.
One early winter day, when Parker and Gary were finishing the post-hunt breakfast at the cabin with Paw James and me, I tested the depth of my relationship with Parker in full hearing of Gary. "Parker," bellowed I, "I am going to let Summer out of that box in a few minutes. She and I will walk along the bank of the cypress
swamp there because I think she just might know where a woodcock is worming on the bank.
If I am right, then she will stop and point at that bird. If I am any good at all with this little 28-gauge, then I might just have woodcock breast for supper. Do you want to ask your dad if you can walk with us, since old people and old dogs should not be alone in the woods?"

Parker was all bright eyes and front teeth as he looked at Gary for permission. A young boy is a precious thing to a man. Loaning him out to another in the woods with a loaded gun is always an algebra problem. Manhood and tradition are the denominators. Safety and decision-making are the numerators. To the great pleasure of Parker and as a great honor to me, Gary instructed Parker to both tie his little boots and "do exactly as Mr. Bill says."

God bless my good Summer dog. She did indeed know exactly where that woodcock was probing the soft mud for the proteinrich annelids. She locked down about 300 yards from where we put out, haunches quivering with excitement, and nose extended.

Whenever Summer found her quarry, she would strike the classic pose and softly pop her jaws. "Look at that, Parker! She is drinking in the smell of that bird. It tastes better to her than chocolate milk."

Parker was enthralled. I ordered him to stand right where he was and advised that I was going to walk around to the right between the dog and the water's edge so the bird would fly up the hill, not across the swamp. He nodded a "Yes sir," never taking his eyes off Summer's head. I took a few steps and the woodcock did what woodcocks do, doodling straight up into the air, but banking left, directly over Parker's position.
My patriarchs in heaven would have paddled my behind and taken away my double-barrel if I had shot over Parker's head. So the bird escaped untried, doing what else woodcocks do and settling into a thicket 75 yards away.

We went after it again. Summer repeated her poetry, but a tall man in a short thicket is no equation for harvesting a wild bird, and that woodcock got away. Gary and James were driving up the path to find us, as Parker had a Cub Scout meeting and Gary was a pack leader. To my great satisfaction, Parker did not want to leave. To Gary's and Kristi's great credit, Parker did not whine or complain, but instead dutifully traded places with Paw James. In my mind, I hoped that Parker chattered incessantly about Summer and woodcocks and Mr. Bill.

Gary and Kristi and Parker and littler brother Hudson became family to Paw James and his wife, JJ. Gary texted me a picture of Parker's first buck, taken on Eagle Farms while sitting in the Parker Blind with his dad. My wife and I coincidentally ran into them all in downtown Beaufort a summer or two back.

Parker and I discussed Summer getting older and how we both hoped for one more hunt that fall. This past summer, during some crisis on the farm where a storm took out a power pole, Gary was on family vacation at James' house in Hatteras. James, in a chemotherapy regimen, would not call Gary to come home, because
he knew Gary would have.
The last time I spoke to Gary, he had been to clean out James' chicken coop because James was too weak to do it while recovering from his final round of chemo. On my last trip to the farm in August, I forgot my gate keys and texted Gary to leave it false-locked so I could get in. On Sept. 15, 2020, in the wee hours of the morning, for no good reason and with no satisfactory explanation, Gary Dillon, age 43, died at home of an apparent heart attack.
The day before was one like any other in the world of a husband, a dad and an aquaculturalist. At the dawning of that next day, two boys were left fatherless; a wife of 17 years was widowed; a Cub Scout pack was left without its former Eagle Scout Assistant Troop Master; and a deer blind behind Pond H5 on Eagle
Farms was left without an owner.

When JJ spoke to Gary's boys that afternoon, looking for words that mattered, Hudson said, "My Daddy went to visit Jesus, but he didn't take his truck."

I have had to relocate my key ring for the gate. I need those keys, because I need to get inside to sit in that box with Parker and Hudson. They need to hear from me that their dad was a great man - to know that I cannot explain any better what they cannot understand. They need some hope that the world will be less cruel than it was on Sept. 15.

Bill McFadyen can be reached at propertybill@nc.rr.com.