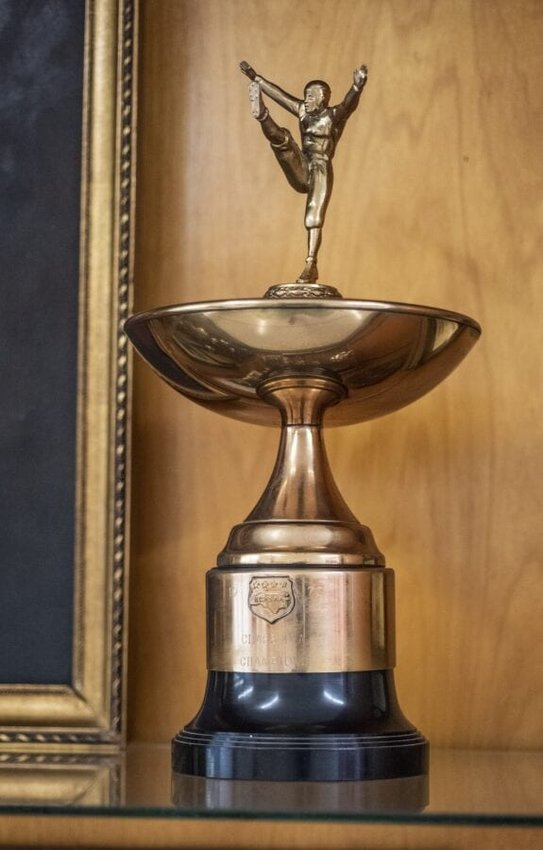 A group of young, unproven coaches, along with a team of mostly unproven players, were coming off a disappointing season.
At the time, it didn't sound like the recipe for building a championship team. But all the usual missing ingredients were replaced by an almost magical chemistry and a community that quickly fell in love with its young heroes. The result was a history-making season for the 1970 Seventy-First High School football team.
It has been 50 years since those Falcons flew high, as high as they could, bringing home the N.C. High School Athletic Association's Eastern 3-A title.
The 1970 football season at Seventy-First was one of confusion and transition at the beginning. After winning the Pioneer 3-A Conference in 1968, the 1969 team fell to a disappointing record of 2-8.
Lineman Greg Killingsworth said it was clear what the problem was that season.
"It was not a team,'' he said. "There were a lot of guys who were more concerned about what was going on at the Torch Drive-In, McDonald's or Hardee's.''
After that disappointing season, Lawrence Buffaloe, who had coached the Falcons to the league title in 1969, decided to leave coaching and enter school administration, becoming assistant principal at Seventy-First.
Principal Bob Lewis made what many considered a bold decision, elevating a fairly inexperienced assistant named Jim Boyette to head coach. A graduate of James Kenan High School in Warsaw, Boyette had graduated from then-Campbell College just six years earlier.
A football star in high school, Boyette played what was basically club football at Campbell, where his teammates included future Seventy-First co-worker Alex Warner and Hope Mills stars and brothers, Calvin and Charles Koonce.
Boyette didn't consider his promotion bold at all. He had a different word.
"It was absolutely a gamble,'' Boyette said. "I was scared to death.'' Scared, yes. Daunted? Absolutely not.
"My expectation was we were going to work hard and try to do things that were right,''
Boyette said. "The desire was to do the best we can every day and try to keep improving.''
He surrounded himself with a young but capable staff. His two primary assistant coaches were Charles Babb and Nathan Pittman. In addition to coaching football, Babb would go on to build a powerful basketball program at Seventy-First, eventually taking his 1974 team to the N.C. High School Athletic Association basketball finals.
Pittman had gained a reputation as a defensive genius over the years. During his long career, Pittman would plot defensive strategy for four Cumberland County teams that took home NCHSAA titles.
"Everybody was positive,'' said standout running back Tim Heath. "We just felt like let's go out here and give it our best shot and see what happens.'' Heath would go on to play college football at Fayetteville State and was inducted into the school's Hall of Fame in 2002.
"Going into 1970 we had nobody with experience,'' said lineman Gary Pellom, who would be named All-East by the Raleigh News & Observer and wind up playing for Duke. "I can remember Boyette telling us at the beginning of the year, we may not be very good, but we're going to be in shape.''
The early 1970s were an odd time for the NCHSAA football playoffs. Because of the large number of schools in the 3-A classification and the NCHSAA's concern for extending the season too long, the 3-A playoffs stopped with Eastern and Western champions.
Boyette said not being able to go all the way to a title game was never an issue for him or his players. "The only championship in front of us was the Eastern championship,'' he said. "We knew that and understood that. That was our goal.''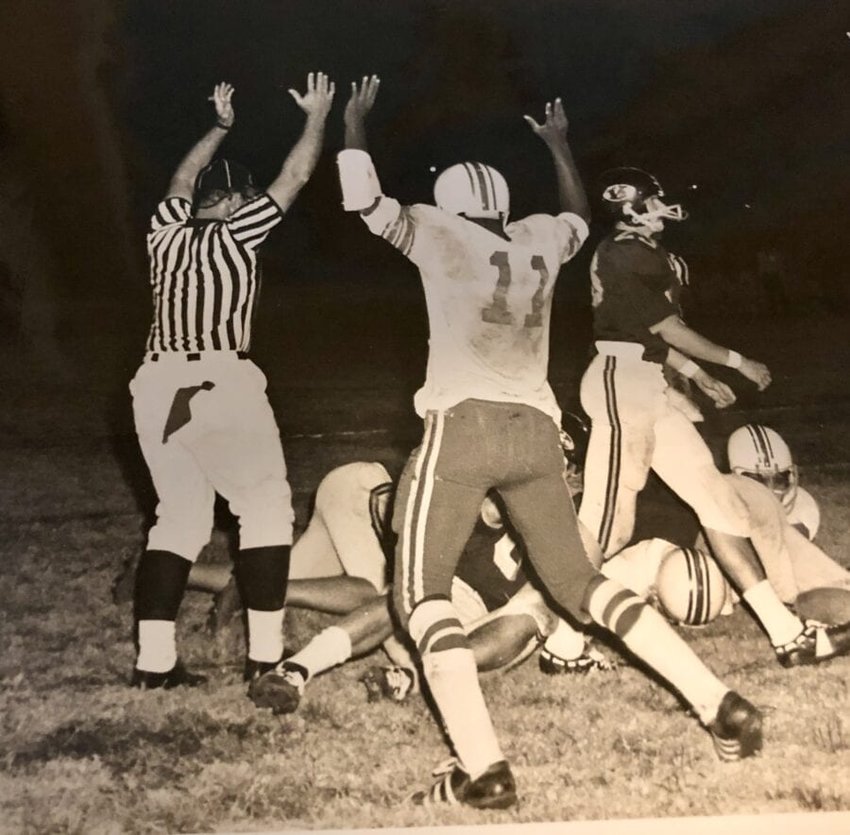 But after the Falcons' season opener with traditional Cumberland County power Terry Sanford, the goal looked far from attainable. The Bulldogs, led by veteran coach Gerald Moody and future University of North Carolina quarterback Frank Townsend, routed Boyette's young Falcons, 34-6. It was a nonconference game then, so it did nothing to upset the Falcons' hopes of winning the Pioneer 3-A, but it was cause for wondering whether Boyette and his staff had the right answers.
But instead of tearing up his playbook and his team, Boyette took a calm, reasoned approach to dealing with the lopsided defeat.
"We attempted to do things on our own out of a desire to win,'' he said of that opening loss. "We did not play sound football. We did not respect our assignments. "Townsend ate us up with his finesse with the option.''
At the next practice, Boyette had a simple message. He planned to play the players who stuck to their assignments and did what was asked. They were going to listen.
The day of the second game, against a powerful Goldsboro team, Boyette had a surprise for his team.
Barry McNeill, then a student athletic trainer for the Falcons, shared the story in a series of articles he has been posting on Facebook remembering the 1970 season.
A Falcon senior, Gary Bruce, came to Boyette with the idea of using a song to inspire the team. He brought the idea from New York where he had played football before coming to Seventy-First.
The song he had in mind was "The Impossible Dream" from the hit Broadway show "Man of LaMancha."
After listening to the song, Boyette decided to play it on a turntable in the team dressing room before the game. Just before the players ran onto the field, Boyette shared one of his favorite passages of scripture with them, saying it did not mean that they would win, but that hopefully it would inspire them to do their best.
The verse is Philippians 4:13: "I can do all things through Christ, who strengthens me.''
Properly inspired, the Falcons, who had been routed a week earlier, pulled off one of their biggest wins of the season, stunning Goldsboro, 12-7. The Falcons rallied from a 7-0 halftime deficit and got the clinching score in the fourth quarter on an 11-yard pass from backup quarterback Horace Whitaker to Anza Adams.
The only stumbling block for the Falcons the rest of the regular season, and the only Cumberland County team Seventy-First didn't manage to beat in the championship season, was Massey Hill.
In their first encounter, Massey Hill pulled out a 9-8 victory on a late field goal by quarterback Terry Luck. Luck would go on to play for the University of Nebraska. Repeatedly sidelined by knee injuries while with the Cornhuskers, he came off the bench to lead his team on a 99-yard drive as they went on to beat Florida 13-10 in the 1974 Sugar Bowl.
Back in the 1970s it was not uncommon for county football teams to play each other twice, which Massey Hill and Seventy-First did. The second game ended in a 6-6 tie, with Seventy-First's Gary Pellom blocking a Luck field goal in the final seconds to preserve the deadlock.
To this day, the Falcons aren't sure what spell Luck and his veteran head coach Maurice Chapman wielded on them. "I really can't think of a reason,'' Pellom said. "Terry Luck was a superb athlete. I just think they got into our head somehow."
Heath credited outstanding athletes like Luck and Hubert Roscoe, along with Chapman's coaching. "Everybody respected Coach Chapman,'' Heath said. "He had a knack of getting the best out his players and was well-respected by everybody.''
The win that convinced the Falcons they had a contender came about halfway through the season against Pine Forest. The Rebels, as they were called back then, were considered one of the favorites for the Pioneer title. The Falcons registered their second-most lopsided win of the season, 42-8.
"They were pretty well thought of as a legitimate playoff team,'' Heath said. "That was a benchmark for us. Us beating them, that told me we can play with the best of them.''
It was that win, and a season-ending 22-6 verdict over Cape Fear, that earned the Falcons the Pioneer 3-A Conference's only state playoff berth. They were tied at the top of the league standings with Pine Forest at 3-1, but the earlier win over the Rebels gave the Falcons the berth in the postseason.
They opened the playoffs with a tough Scotland team coached by Henry Vansant, who years later would become head coach of the Falcons. Boyette and the Falcons welcomed a key player back into the lineup just in time for the postseason, sophomore lineman Marvin Powell. Powell would go on to become one of the greatest players ever to wear the Seventy-First uniform, earning All-American honors and playing on a national championship team at the University of Southern California. He then, then spent 14 seasons in the National Football League with the New York Jets, five times making All-Pro and eventually becoming head of the players union.
With Powell back from a broken ankle, assistant coach Pittman put him head up over the opposing center. "He rung his bell,'' Killingsworth recalled, adding that the Falcons recovered eight fumbles in that game.
The Falcons beat Scotland 20-0, then downed Roxboro Person 22-6.
That put them in the Eastern finals on the road at Durham's County Stadium against Northern Durham. As was the case throughout the postseason, the Falcons were underdogs, entering the game 8-2-1 to Northern's 11-0-1. The Knights had started the season with a 14-14 tie with Elizabeth City, then reeled off 11 wins in a row entering the title game.
After a 2-2 start that included the losses to Terry Sanford and Massey Hill, Seventy-First had gone 6-0-1, with the only blemish being the 6-6 tie with Massey Hill.
An interesting footnote to pregame preparation, again shared by Barry McNeill, was a near-disaster involving the scouting report compiled by Charles Gainey.
Gainey, who would go on to become principal at Douglas Byrd High School and superintendent of Clinton City Schools, was the designated scout for the Falcons that season.
Gainey traveled to Durham to watch Northern Durham battle Tarboro in the game preceding its battle with Seventy-First.
According to another account by Barry McNeill, Tarboro was up 15-0 at half and appeared in control of the game.
Gainey began to focus his scouting efforts on Tarboro, assuming they were going to win the game. It wasn't a far-fetched notion as Northern had minus 1-yard rushing in the first half.
Joe Brogden sparked a Northern comeback in the second half, scoring three touchdowns to lead the Knights to a 20-15 win and put Gainey in a mess. Looking at his notes, he realized he didn't have sufficient information to generate a worthwhile scouting report.
Sitting in the stands near Gainey was the great Beattie Feathers, assistant coach at Wake Forest. Feathers was a high school star in Virginia and later at Tennessee under the great Robert Neyland. He spent six seasons in the NFL and played on the same Chicago Bear team with Hall of Famer Bronko Nagurski. He made coaching stops at Appalachian State, North Carolina State and Texas Tech before arriving at Wake Forest.
When Gainey shared his problem with Feathers, Feathers sat with him in the stands for close to an hour giving him a detailed report on Northern Durham.
Heath said the Falcons were immediately met with derision by their opponents.
"Seventy-who, Seventy-what, Seventy-how,'' he said. "Where's that?''
The Northern team ran the popular widetackle six defensive formation and was led by an outstanding lineman in the defensive front who lined up opposite Seventy-First tight end Randy Ledford. Ledford would go on to coach baseball at Westover and baseball and football at South View. The football field at South View is named in his memory.
"Randy took it as a personal challenge,'' Boyette said. "Randy stalemated him, whipped him all over the field. That was the whole difference for our offense. It gave us an offensive advantage.''
The Falcons got all the points they needed in the first half, the first touchdown on a 3-yard run by Sherman Sumpter and what proved to be the clincher on a 2-yard run by Anza Adams.
Horace Whitaker sealed the win with a conversion pass to Marshall Lovett. Lovett, who also played basketball at Seventy-First, went on to attend Campbell College where he played basketball for Danny Roberts. In his last two years with the Camels, Lovett played on teams that went 47-10. He was named Campbell's Outstanding Male Athlete and earned third team NAIA All-American honors.
McNeill has been sharing his articles with Lovett, but only recently learned that Lovett has been blind since 2000 due to a case of meningitis. He lives in an assisted living facility in Maryland. McNeill is trying to arrange for his teammates to read the articles he's written to Lovett over the telephone.
Northern managed one more touchdown in the second half, but that was it.
Boyette said there were countless people in the background at Seventy-First who played roles in making the championship possible.
He mentioned assistant principal Gerald Patterson singing a personal rendition of "The Impossible Dream." Assistant principal Alex Warner, who led the Pep Club and grabbed some dirt from the field at County Stadium to display in the trophy case with the championship trophy.
Principal Bob Lewis, administrator Kenneth Edge and all of the school staff. McNeill, who went on to serve as a student athletic trainer at the University of North Carolina under veteran athletic trainer John Lacey, graduated from UNC and earned a law degree from North Carolina Central in 1979.
He served in the attorney general's office for 31 years, retiring in 2010. He had been organizing a night of remembrance at a Seventy-First football game this season scheduled for late September.
Members of the 1970 team planned to gather in Fayetteville for a weekend of celebration at a local motel.
The COVID-19 pandemic forced those plans to be scrapped. McNeill is hopeful that the team will be able to replicate the reunion plans during the delayed football season scheduled to begin in late February.
But whether the reunion happens or not, the members of the 1970 Eastern championship team still cling hard to all the memories.
"It's just tremendous how much people gave in that community to support that team,'' Boyette said.
Heath felt there were some racial issues in the community at the time, but the football team's accomplishments helped lift everyone above that. He said it let the community bond together, share a common goal and root for one another. "That's what made it special for me,'' he said.
"We just bonded together as brothers and got it done. For the rest of our lives, we've lived on that experience.'' Earl Vaughan Jr. can be reached at earlvaughanjr@gmail.com.
Read more of Earl Vaughan Jr. in our PressBox Newsletter. Subscribe at cityviewnc.com or text PressBox to 22999.