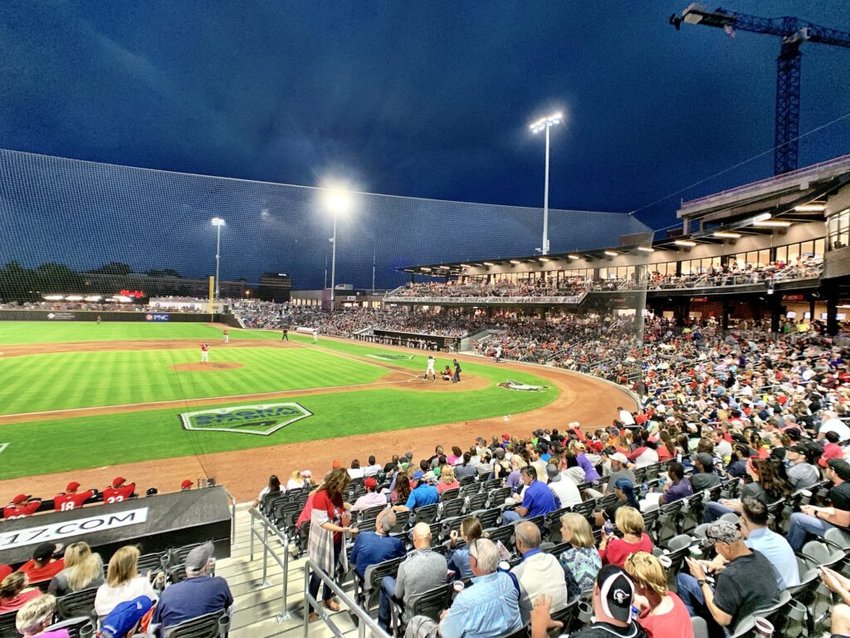 By Tony Chavonne
One of the best minor league movies ever, "Bull Durham," had one of the most memorable baseball quotes. Susan Sarandon, as Annie Savoy, claims she is quoting Walt Whitman when she says at the end of the movie, "I see great things in baseball. It's our game, the American game. It will repair our losses and be a blessing to us all."
Fayetteville Woodpeckers baseball started two long years ago with the sounds of "Play Ball" and "Beer Here!" But the most frequent comment heard when seeing the stadium was "I can't believe we are in Fayetteville!"
Sadly, the last year has seen us take several steps back in the progress we were making in our downtown. The pandemic has delayed the planned private sector investment surrounding the ballpark. The social unrest and related disruptions from last summer resulted in the words "I can't believe we are in Fayetteville" taking on a whole new meaning.
Today too many people are still too concerned with the safety of the area to return. The threat of protest or disruption creates fear and uncertainty in many people's minds. Our downtown needs a shot in the arm. Our city needs baseball.
Can this month's start of a new Woodpecker season provide us the same excitement of the first season? Can the simple game allow us to come together once again to celebrate American's pastime and our downtown? Can we finally look past COVID and disruption and feel excited about the progress we have made?
Making change in this community has historically been difficult. For too many years we allowed low self-esteem, divisiveness and the fear of failure to hold us back. At times, like now, it can seem we are headed backward. But don't tell that to the thousands who flock to Woodpecker games and celebrate our downtown and the growing anticipation of things that could come.
By working together, we were able to locate the stadium in the ideal location, provide creative joint funding, and spur significant private investment. With open dialogue and mutual respect, we improved the original parking plan. By ensuring transparency along the way, we developed the public trust. One small step at a time, we changed a city.
Baseball great Yogi Berra once said, "When you come to a fork in the road, take it." Are we ready to take that fork, that road to a brighter future for our city? Can we learn from experience and use the same principals to address the challenges of today? Can we be that "more attractive, clean and peaceful city" where people want to live, and our children can come home to? Can what we learned about this simple game invented 180 years ago help provide the way forward?
What's next? Why stop with a baseball stadium? How about a combined 911 call center, a thriving performing arts center, safe water for everyone, a prestigious Civil War History Center, a repurposed Market House helping tell the entire history of our city, adequate funding for schools, a reduction in poverty levels and more jobs allowing our young people to stay here?
If those dreams seem too great, just remember back a few short years ago. Who could have dreamed of a $40-million baseball stadium, millions of dollars of private investment in our downtown, a renovated Prince Charles Hotel and thousands of people excited about rediscovering our vibrant downtown?
Our hope is that the Woodpeckers will indeed repair our losses and be a blessing to us all.
"I can't believe we are in Fayetteville."
Imagine what we can do when we begin to believe.