BY: TONY CHAVONNE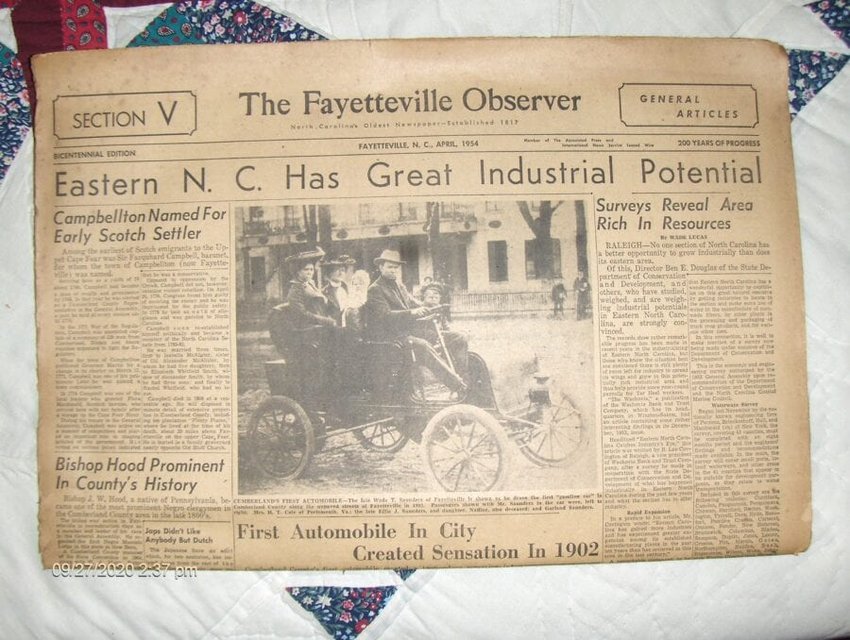 My earliest memories of the newspaper are of Johnny, a paper carrier who picked up his papers at The Fayetteville Observer offices on Hay Street, placing them
in his red wagon and hawking them along the busy downtown streets for 5 cents a copy. There was something reassuring about his chants of "Pa-per! Fed-ville Pa-per!" Those words provided comfort that if there was something we needed to know, then it was included in those pages of the newspaper.

Newspapers were always a part of my life as I found myself working at The Fayetteville Observer throughout high school and later spending 25 years there before retiring as general manager. More importantly, newspapers and the free press have been an important part of our democracy since the beginning of our country.
Freedom of the press was considered "one of the great bulwarks of liberty" by the Founding Fathers. They believed a free press was critical to our representative government by keeping citizens informed and government officials accountable.

Long before the internet, newspapers told the story of American towns. They were the official recorders of history. Every person could count on having their name in the newspaper at least twice – at their birth and at their death – for free. It is where we learned of engagements, weddings and anniversaries, what was on sale, who broke the law and how our tax dollars were being spent. Newspapers provided objectivity and integrity in our lives. They protected the public trust.

It was a time when saying "I read it in the newspaper" meant something.

We are witnessing a significant erosion in the important role newspapers play in our country. Hedge fund investors have gobbled up America's newspapers and formed corporate behemoths with greater concern for stock analysis projections than for providing local news.

Today's newspaper companies are understaffed and underfunded with press deadlines so early that news stories are often days old before being read. Newspaper
circulation in the country has reached its lowest level since 1940. Newspapers have become a failing business, and along the way, lost much of their credibility and importance.
We are inundated – and manipulated - by "news" from every direction. We no longer ask where it comes from or even if it is true. There is no beacon of light to provide objectivity and integrity in reporting; no Pat Reese and Ramon Yarborough to remind us that "we are not just selling shoes here." Sadly, "reading it in the newspaper" no longer means the same.

Most concerning is the lack of oversight over our elected officials and government. The loss of a robust newspaper leads to governmental inefficiency and higher
costs. When reporters don't cover county government or the courts, for example, they fail in being a "Bulwark of Liberty." All people are human, and human frailties can and will arise when no one is looking.

No one is to blame, and we are all to blame. Those who led newspapers companies, like me, during the early days of the digital age were too satisfied with hefty profits and monopoly markets to have much interest in new technology. We did not see that our industry was headed toward the same fate as video stores and encyclopedias. The dinosaurs never saw it coming.

Readers became the victims of the same ruse used by drug dealers to get people addicted. We were offered free news directly to our device of choice as it happened, along with plenty of commentary. We read "news" today from multiple sources with no idea who really wrote it or where it came from. We trade integrity and objectivity for no cost, speed and convenience. And the price we are paying is too high.

We face a national election next month amidst ongoing allegations of voter fraud and distrust of the results, even before they come in. Blatant mistruths fill the pages of our newspapers, the airways of our televisions and the apps of our mobile devices. Allegations of "fake news" take the place of any demands for real news. Confusion and distrust reigns. Public trust is lost. Where do we look for truth? And do we even care?

What I would give to again hear the comforting sounds of "Pa-per! Fed-ville Pa-Per!"