BY: TONY CHAVONNE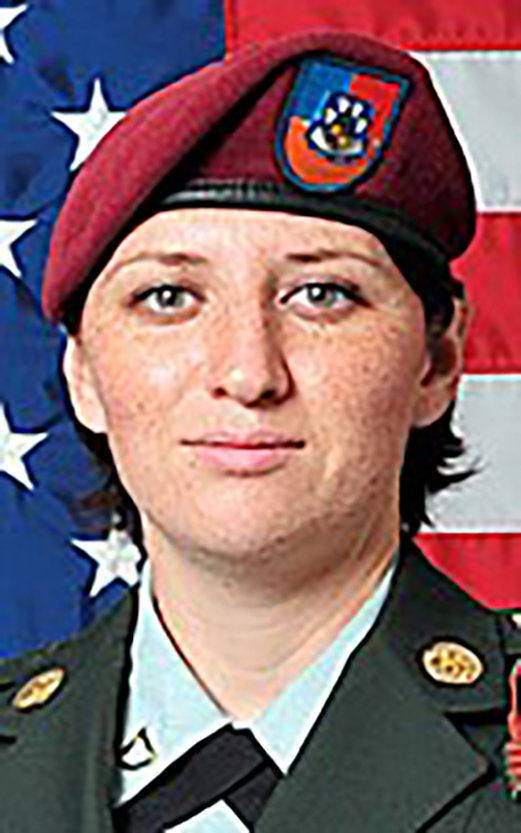 Spc. Krystal M. "Special K" Fitts, a paratrooper with Fort Bragg's 82nd Airborne Division, was killed in Afghanistan when her combat outpost came under enemy fire in the Zharay district of Kandahar Province.

Fitts is one on a list of almost 500 servicemen and women assigned to Fort Bragg and Pope Army Airfield who lost their lives during the war on terror. Each left fellow soldiers and airmen, family members and friends devastated with their loss. The war in the Middle East has taken its toll on families in the Fayetteville and Fort Bragg area for almost two decades.
The service and sacrifice of most of our troops in Afghanistan and Iraq are all but forgotten by many Americans. Few people in our country are paying attention. Most have grown weary of reading about war. Even when the stories are published, they are pushed to the inside to make room on front pages for COVID and politics.

And for a community that prides itself on being a place where "Watching Over Those That Watch Over Us" is more than a slogan, the hurt is even worse. We see their faces in our Sunday school classes and at our Little League games. We see the moms at the grocery store and dads at our weekly trips to Lowe's. To live beside those types of American heroes is to live in Fayetteville.

War is not a political word in Fayetteville. War is where our family, friends and neighbors go to protect the freedoms we enjoy. Over 3,000 of them are deployed across the world today, away from family, holidays and birthdays.

Since 2008, our community has sponsored the Field of Honor on the grounds of the Airborne and Special Operations Museum. Each year, we gather to celebrate our pride in being a military town and to share in the hundreds of stories of service and sacrifice reflected in the furrows of the 500 American flags on the parade field.

There is no more appropriate location than this soldiers' sanctuary city, this military town and that hallowed ground where honor and sacrifice are celebrated each day. Indeed, the history of Fayetteville is interwoven with the history of our country's military and the valor that they offered and continue to offer every day in defense of the freedoms we enjoy. The diversity reflected in the faces of this city provides us a geography lesson on the places of our nation's conflicts in Europe, Africa, Southeast Asia and the Middle East. Each face contributes to the collective fabric quilt work that is our community.

These American flags proudly wave just a few miles from where our state's earliest veterans fought to secure our independence from Britain; a few blocks away from where Union and Confederate soldiers clashed in the Civil War; and less than a football field away from where military families stood at train tracks and bus stations to see soldiers leave for places like Sicily and Anzio. And today, just a few miles from Green Ramp where we see our nation's military depart and return from new places like Fallujah and Kandahar.

Each of the flags tells a unique story. They honor someone who is currently serving, those who have served and the men and women who made the supreme sacrifice for our nation's security and freedom. They reflect the lives of young people who left their homes, their friends, their families – to protect our American way of life. They reflect lives of service and sacrifice; of great homecomings and the stories of some that never came home.

Over the next month as you look across the parade field and see the majestic red, white and blue flags, you will share in the powerful emotions those flags generate. It could have been called Field of Colors, or Field of Flags or some other visually descriptive name.

But this military town, where the names have faces, chose a different name - Field of Honor.
One of those faces is "Special K" Fitts. You can find her flag and honor her memory in Section Q-27.