By Earl Vaughan Jr.
Michelle Clark's love affair with running started almost 40 years ago when she took part in her first Presidential Physical Fitness Test at C. Wayne Collier Elementary School in Hope Mills.
"They had, like, a 600-yard run, and I beat all the boys in my class,'' she said. "I said, 'This is fun.' ''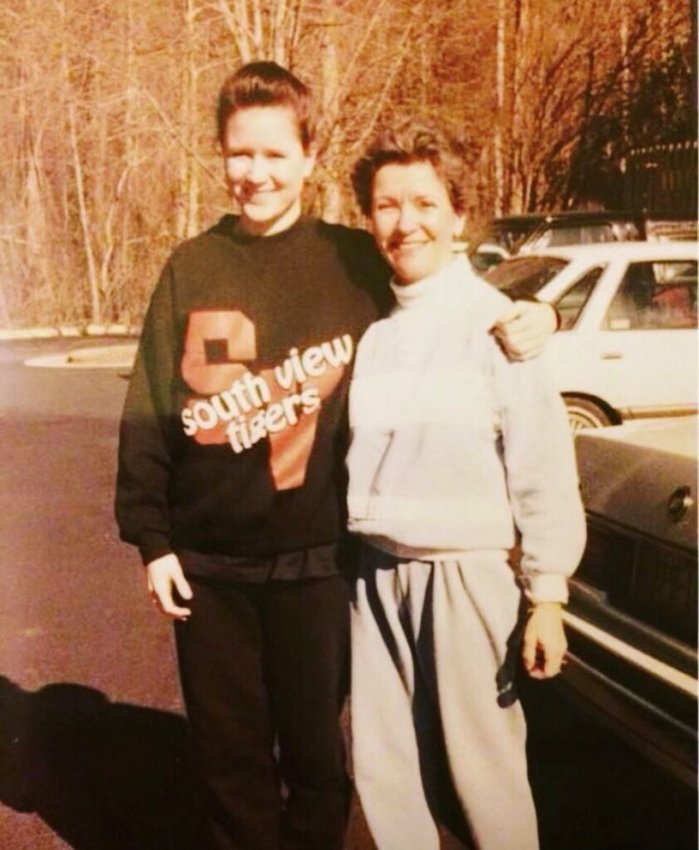 She's made a big jump in the years since, from running just 600 yards to peaking this past Monday when she competed in her first Boston Marathon. While she didn't beat all the boys this time, she came in ahead of a lot of them as she placed an unofficial 2,523rd in a trimmed Boston field of about 20,000 runners that was limited because of the COVID-19 pandemic.
The 49-year-old South View High School grad, who now lives in Raleigh and works for a software sales company, said she gravitated to running because she enjoyed athletics but lacked the hand-eye coordination to participate in most of the sports played with a ball.
"There's just something that is so magical to me about running,'' Clark said. "It's something I've always come back to in my life.''
As much as she loves the sport, Clark admits there were times when she was at odds with her favorite pastime. She went to Campbell University to run but quit the team and turned her back on running for five or six years.
Eventually she moved to Connecticut where she worked in television news and found her love for running again. But after returning to North Carolina in 2004, she was running near Jack Britt High School and was bitten by a dog. After that experience, she walked away from running for the next 10 years.
Then one day, she had an epiphany. "Running makes me happy,'' she said. "I wear a hat that says, 'Run happy.' Every photo you see me in, every photo running, I'm smiling because it brings me so much joy.''
One reason for that is her late mother, Nancy, who died 11 years ago. "I feel her with me when I'm running,'' Clark said. She also draws inspiration from her dad, Billy, who recently turned 90. He still lives in Hope Mills and has been diagnosed with a rare brain disorder that causes problems with movement and balance and could eventually require him to use a wheelchair.
"Every step I took, I took for him,'' she said.
Clark's quest to run in Boston started 19 years ago when she competed in her first marathon in Kiawah Island, South Carolina. She ran that marathon again in 2018 when she earned her qualifying time for the Boston Marathon. She was scheduled to run in the 2020 race, which was called off because of the pandemic. She did a virtual Boston Marathon but said it wasn't the same as the real thing.
This year's race was postponed twice before finally being run earlier this week.
She began seriously training for Boston about four months ago, building up to running 50 miles per week. She came back to Fayetteville during her training and got in a 20-mile run. "I felt like I had a really good base for it,'' she said.
This year's race was much different from the normal Boston Marathon because of the COVID-19 protocols. Instead of the usual mass of thousands of bodies at the starting line, race organizers scheduled what was described as a rolling start, with participants arriving at the starting line by bus then taking off to race whenever they were ready.
Clark began her long day at 10:12.02 a.m. She kept a pace of just over eight minutes per mile through the 30,000-kilometer point, then slowed to a pace of 10:57 by the time she reached 25.2 miles. Her finishing time, which was at exactly 2:02:01 p.m., was 3:41.00.
The most emotional point for her came when she realized she was at the midpoint of the race. She looked up at the sky and envisioned her mother with her. "She kind of carried me the rest of the way,'' Clark said.
Her time slowed when she hit the famed Boston Marathon hills at about the 27-kilometer mark. "Those hills are no joke,'' she said. "They are just going up and up and up. There's a reason why they call it Heartbreak Hill. Once you see the Citgo sign, you know you are close to the finish line. That was the longest 700 meters I've run in my life.''
Clark had thought about setting some lofty goals for the race, but she remembered a chat she had with her orthopedist in 2019 when she tore her hamstring in two places.
The doctor told her not to go to Boston and try for a personal best. He said just try to have fun.
"I think a lot of times when I set goals for myself and don't achieve them, I feel so disappointed and let down that I just want to finish,'' she said. "I want to have fun.''
And so she did, focusing on enjoying the moment and slapping the hands of spectators along the race route who were shouting encouragement to her and the other runners.
She missed a personal marathon best by six minutes, but she did manage to earn a time that qualifies her for next year's Boston Marathon.
She realized too that all that time off she took from running years back made her love the sport even more. "It's suffering and putting one foot in front of the other, being out there by yourself with no one to push you on those long runs,'' she said. "It's my therapy.''
Clark said there are a lot of mental games you can play with yourself running a marathon. She described the last six miles as "Coming to Jesus with yourself. Can I do this?''
Crossing the finish line is not a matter of being the person with the best time; it's the challenge of completing the goal.
"You have that accomplishment now,'' she said. "It was so much fun. I don't think there was a point I didn't have a smile on my face.''