By: Michael Futch
Photography by: Cindy Burnham
At first, the Throwback Collaboration Band wasn't actually a band.

"This collection of musicians who performed in various bands and churches would periodically get to together to do parties for friend and nonprofits," said Adolphus Thomas, who by day serves as community development administrator for the city of Fayetteville. "We realized that we had something most bands do not have … friendship. So we made a permanent change to work together and form The Throwback Collaboration Band.
Established by Goodyear employee Richard Bradford in 2015, the Throwback Collaboration is a grassroots party band out of Fayetteville that largely applies its earthy soul
spin on select cover material from different genres in the musical world.

"We TCB it," said Mark "Duce" Thomas, the 63-year-old rhythm guitarist for the collective seven-member group, all of them church musicians.
They come with an old school sensibility.

And while they play the likes of Rick James, Heatwave and Michael Jackson from the vintage rhythm-and-blues, dance and pop worlds, this outfit of seasoned players also musters the chops to crank out songs from, among others, 1970s rocker Steve Miller and contemporary country maverick Chris Stapleton.

"It's a combination. We make people remember what it was like to be in the '70s and '80s," said Adolph Thomas, 63. "So we play all those tunes from R&B and funk from back then. And we lean a little bit toward social consciousness songs, like from Marvin Gaye.

Those kinds of things. But we keep the show fun."
Members also include Bradford, 59, on drums; Michael Counts, 63-year-old bassist; Larry Ludgood, 56, lead keyboardist; Sybil Pinkney, 55, vocals; and Mosh'e Hair, 41, on keyboards.
Due to the ongoing concerns over the COVID-19 crisis, there haven't been any shows of late for them to perform.

The last time the Throwback Collaboration played a date was in October 2019 at Dirtbag Ales Brewery and Taproom on Corporation Drive in Hope Mills. They said they were scheduled to return to the same site in January, but the date was canceled because of the concerns over the spread of the COVID in the United States.

The group also had been booked to play Segra Stadium, home of the Fayetteville Woodpeckers minor league baseball team, in downtown Fayetteville. But the club's entire
season was scratched in 2020, another casualty to COVID.

Still, the musicians continue to hone their skills during Saturday rehearsals. Adolph Thomas has described their live stage performances as "a family-oriented show – so we like to see people have fun and see how wonderful it is to come together."

"We can jack it up," Duce Thomas said.
For an interview, five of the band members convened for conversation and even played a bit in Adolph Thomas' garage in Cliffdale West. Typically, they gather for rehearsals at founder Bradford's home.
As of mid-February, the musicians were eyeing a scheduled date for the Seniors Black and White Ball at Friendship Baptist Church in Charlotte in August and the 2021 North Carolina State Fair in Raleigh. They say that Ripley's Believe It or Not! On the Ocean Boulevard in Myrtle Beach, South Carolina, also has shown interest in booking the band.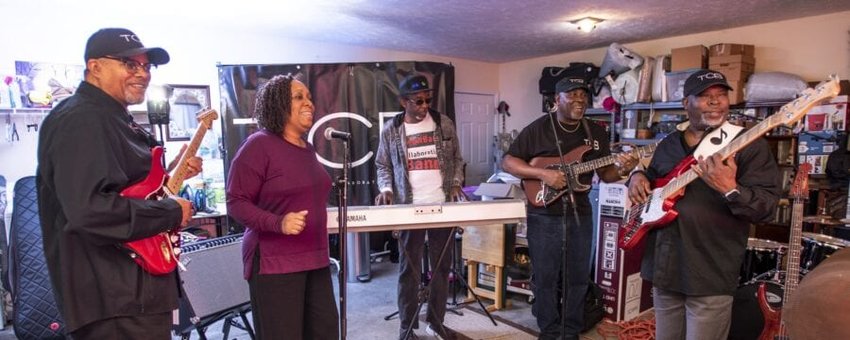 Mostly, they're a regional band that has played weekend dates at Dirtbag and for the Dogwood Festival, various birthday parties and religious organizations.
While the group's bread and butter has proven to be cover material, keyboardist Ludgood is eager to incorporate some original material into the mix for shows. These selections would be more jazz-oriented instrumentals.

As they played a few tunes, it was obvious these band members enjoy being together. Making music together. Their ragged-but-right voices blended nicely on "Ain't No Stopping Us Now" by the R&B duo McFadden & Whitehead and the Ann Peebles' soul gem, "I Can't Stand the Rain."

Guitarist Duce Thomas would probably have made funkster Nile Rogers proud with his Chic-like rhythmic precision and jazz-fusion groove on a Fender guitar.
But friendship, he said, is the real star in the band.

"... We find pleasure being around each other a lot and this particular thing just grew because we started out just as a house party and before you knew it, people were saying, 'Can you come? Can you come?' So now we're regulars at Dirtbag."