BY JANET GIBSON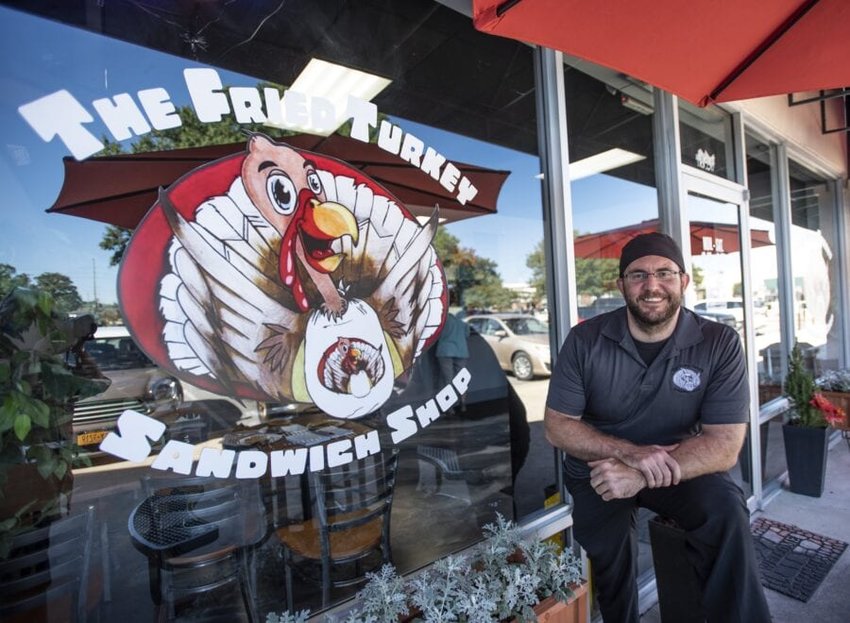 Rewind to Sept. 22, 2008, when Basil Hasapis, a 24-year-old son of Greek immigrants, opened his first location of The Fried Turkey Sandwich Shop in a modest strip shopping center off Cumberland Road. Basil, who grew up in the restaurant business, had the support of his family, lots of practical experience and a crazy-strong work ethic.
He also had a niche. Fried turkey, Basil mulled over … specifically, turkey breast fried to light perfection in 100 percent peanut oil. Why not add a few fried turkey selections to a dinerinspired menu that he was already in the middle of creating? After all, he enjoyed frying up the birds for his family's Thanksgiving celebrations – and the meat was always tender and juicy, if not a bit addictive.
You guessed the rest. A "few items" grew into a full-blown concept of sandwiches, subs, wraps, build-your-own grilled cheese, nuggets or "bites," bowls, salads, quesadillas (the steak quesadilla is exceptional if turkey is not your thing) … and please save room for dessert
because the house-made sweet potato squares are amazing. No doubt, Basil's originality became the foundation for what is now a successful trio of casual restaurants. He also achieved a bit of fame along the way.
When Thrillist was compiling its picks for best sandwich in every state, the Turkey Day Sandwich rose to the top. Our State Magazine named the $7.75 feast among "the top 56 food experiences you can't miss in North Carolina." What exactly is the highly praised sandwich? Envision a mound of fried turkey breast slices artfully topped with cornbread stuffing, gravy and cranberry sauce, in between two slices of buttered Texas toast.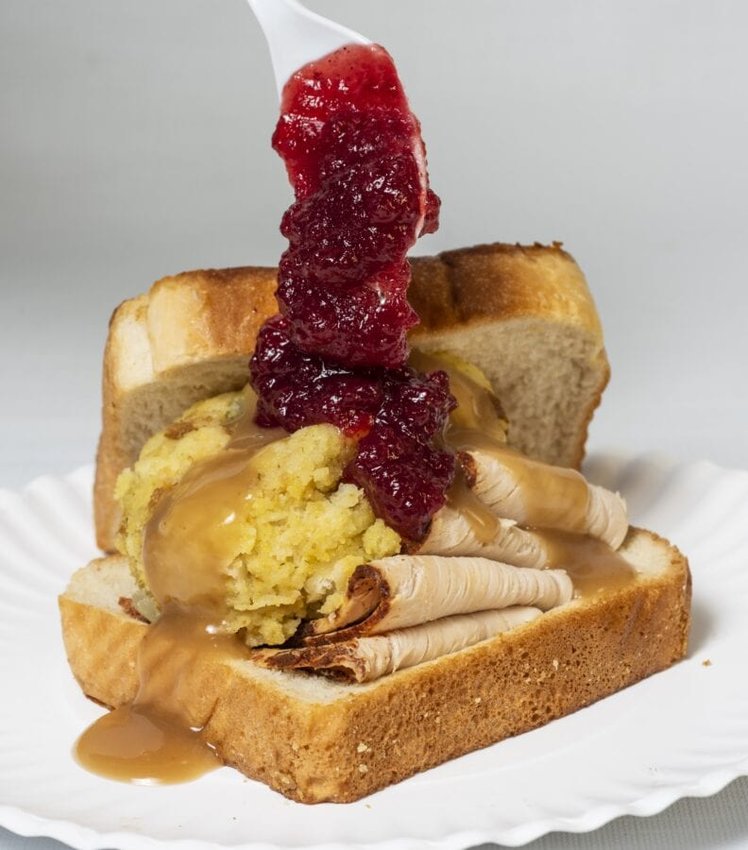 Now, gobble up every bite – and not just on Thanksgiving. (Note: The Fried Turkey Sandwich Shop is offering a Thanksgiving Day takeout menu.) Basil says the fact doesn't escape him that he opened his first restaurant during the financial crisis and opened his latest location at Bordeaux in the middle of a pandemic. In between, he set up a downtown shop just off Person Street, and also moved from Cumberland Road to a larger space off Bingham Drive.
Unpretentious and welcoming, each restaurant draws its core customers from different places. On a recent trip to Bordeaux (the former Tony's Pizza space), healthcare workers in scrubs and masks were making the trek from nearby Cape Fear Valley Medical Center. The downtown shop attracts "the courthouse crowd," including a lot of lawyers. The Bingham Drive location
brings in neighborhood folks from nearby subdivisions such as Arran Lakes West and Gates Four.

Over the years, word of mouth has spread, and folks keep flocking to "the fried turkey place" for consistently fresh fare for mostly less than 10 bucks per person. And – if you're lucky enough to catch them on Mondays before they run out – fried turkey skins.
Basil Hasapis, now 36, grew up washing dishes in his father's business, Jim's Restaurant in Sanford. He graduated in 2002 from Fayetteville's Terry Sanford High School, took a couple of community college courses, but decided it wasn't for him. He worked in a few restaurants and the fitness industry (working off the calories from his favorite Santa Fe turkey quesadilla is another commitment). Albert Alexander Green III, a cashier at the Bordeaux restaurant, calls Basil "a great boss." He adds, "Basil has so much insight – not just about business, but about life."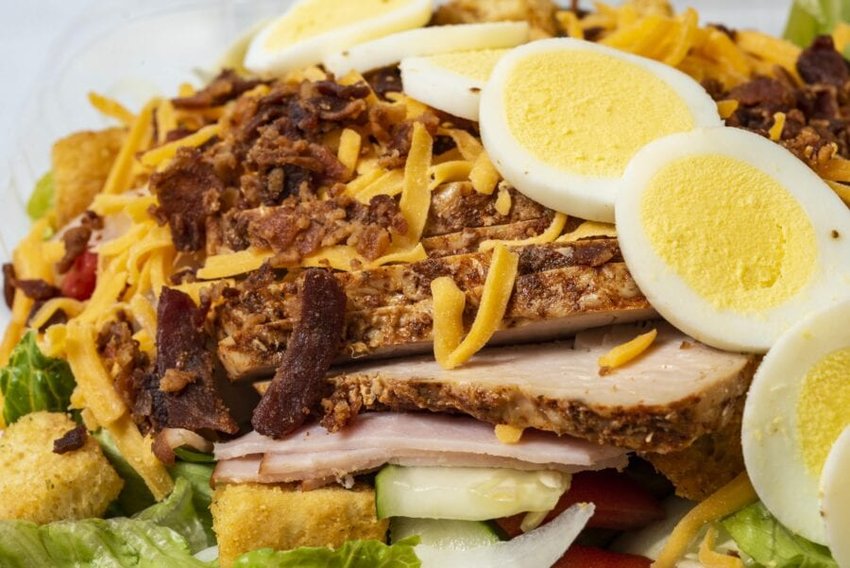 Indeed, when Basil speaks, he sounds like a best-selling business book in the making. Equal parts passion and sincerity. He talks about "adding value" to his team members' lives, leading by example and establishing smart workflow systems. One can't help but think that franchising might be in his future.

"Take care of your people," Basil says, "and it will come back tenfold to you."
TALKING TURKEY
THE PLACE: The Fried Turkey Sandwich Shop. The newest location is in Bordeaux Shopping Center, 1820 Owen Drive, 910-491-7603.

Other locations include 2318 Paintersmill Drive, No. 110 (off Bingham Drive), 910- 425-2755, and 132 Person St. in downtown Fayetteville, 910-223-5379. Takeout and catering orders are available.
Website: friedturkeyshop.com
SPECIALTIES: A perennial favorite is the Turkey Day Sandwich, named "Best Sandwich in North Carolina" by Thrillist and a top food experience by Our State Magazine. Nestled between two buttered Texas toasts, find juicy slices of fried turkey breast topped with cornbread stuffing and cranberry sauce; pour on the gravy. All the sandwiches are outstanding (and filling), including "build your own grilled cheese" on sour dough, plus a variety of subs and wraps. The turkey
is fried in 100 percent peanut oil. If turkey is not your thing, the steak quesadilla rocks! The chef salad also is popular, especially with those on low-carb diets.
Fried turkey skins on Mondays.

Save room for dessert: the house-made sweet potato squares alone are worth the trip.

PRICES: Most items are $6 to $9.50. Prices include sales tax.

HOURS: All three locations are open Monday through Saturday. The Bordeaux and downtown locations from 10:30 a.m. to 3 p.m. The Bingham Drive shop operates from 11 a.m. to 9 p.m.
THANKSGIVING ORDERS KICK OFF ON NOV. 1

Not in the mood to slave over a hot stove this Thanksgiving?
In keeping with tradition, The Fried Turkey Sandwich Shop will do the cooking for you.

Owner Basil Hasapis says the restaurant begins accepting orders on Nov. 1 through Nov. 24, which is the Tuesday before Thanksgiving.

Customers must order and pay in advance in person at any of the three restaurants.

THE FEAST INCLUDES:
* Turkey breast (fried in peanut oil), $15 per
pound (3 to 5 servings per pound).
* Cornbread stuffing, $25 per pan (feeds 15).
* Gravy and cranberry sauce, $4 per pint, or
enough for every 1 pound of turkey.
* Sweet potato squares, a creamy sweet potato
treat on a thin yellow cake crust and topped
with cinnamon, $2 per square.
All orders MUST be picked up between 10 a.m. and 1 p.m. on Thanksgiving Day at the restaurant location off Bingham Drive only, Hasapis says, noting that the particular shop has the biggest fryers and space for getting in and out with minimal fuss.