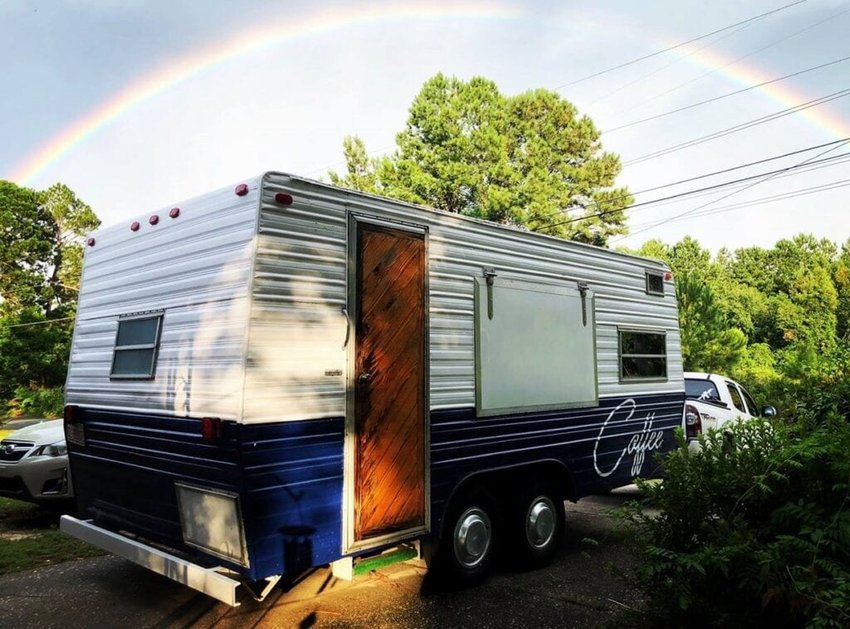 World-class coffee and a sprinkle of heritage are brought to customers all over North Carolina in a 1974 Wilderness bus. Nancy Ramos, a California native and daughter of two Mexican immigrants, combined her love for coffee and the beautiful things in life in her mobile coffee truck, Vagabond Coffee.
"My caravan is a 1974 Wilderness," she said. "When the caravan was sold to me, it was a beautiful white canvas inside and out with stunning woodwork inside. I painted the caravan blue because it symbolizes serenity, and it's also my mother's favorite color – thus the caravan's name "Toñita" which is also my mother's nickname. When I worked on the interior décor, the idea revolved around building an ambience of peace; it being aesthetically pleasing to the eye and most importantly for everything to have a functional purpose."
You'll notice this attention to detail as soon as you approach the bus. From hanging plants to soft lighting and charming signage, this bus is a cup of warmth on its own.
Ramos served up her delicious drinks at Cape Fear Valley Health Presents CityView's Ladies' Night Out on April 22, where we were introduced to her charming van and her unique menu.
"I change my signature recipes every month simply because I get bored of offering the same drinks year-round," she said. Besides her unique vessel from which she serves, she also boasts true specialty coffee, which most coffee drinkers have never really had.
Some of her favorite drinks combine her Mexican heritage and her specialty ingredients: Mexican mocha and horchata. She also features a popular hibiscus drink called Frida, with hibiscus imported from Mexico.
For a taste of Vagabond, follow her on instagram at @vagabond.cafe910 or visit www.vagabondcafe910.com. Keep an eye out for upcoming appearances and you may just get to try Ramos' taste of home.