By Earl Vaughan Jr.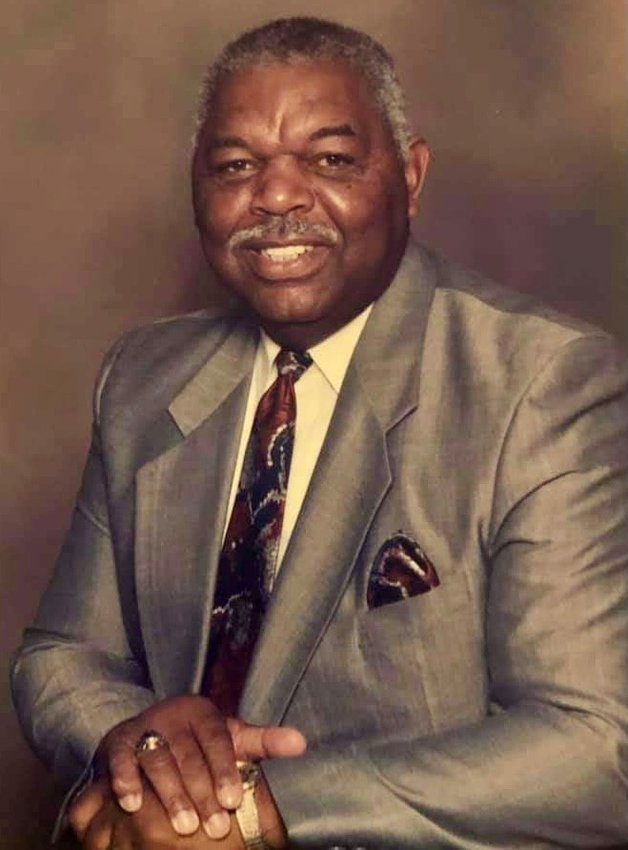 Charlie Adams, longtime head of the N.C. High School Athletic Association, was one of the most effective and engaging public speakers I've ever known, yet even Adams stood in awe of the speaking ability of the late Bill Carver.
Carver, former student activities director of Cumberland County Schools and a recognized leader in high school athletic circles statewide, died earlier this week at the age of 81.
Carver had a commanding presence at any podium with his deep, dynamic speaking voice. He was often called on to give reports and frequently asked to offer a word of prayer. On one of those occasions, Adams stepped to the microphone after Carver, glanced in his direction and said, "I wish I could pray like Bill Carver.''
Carver's contribution to high school athletics in Cumberland County and statewide covered much more than his prayers.
He was a tireless advocate for public school sports, and on numerous occasions proclaimed to anyone that would hear him that high school athletics was the front porch of the education system. His point was a lot of people outside the schools only interact with educators and students when they attended a high school sporting event, and it was Carver's mission to make that front porch as inviting and attractive as it could possibly be.
Carver spent 37 years with the county schools, starting as the coach of multiple sports at E.E. Smith High School. He later moved into administration and eventually was hired as athletic director at Fayetteville State.
He is a member of the CIAA Football Officials Hall of Fame, the N.C. Athletic Directors Hall of Fame and the NCHSAA Hall of Fame.
He won a distinguished service award from the National Interscholastic Athletic Administrators Association in 1999.
Dr. William Harrison was the former superintendent of Cumberland County Schools, twice served as president of the NCHSAA and was chairman of the state Board of Education.
Harrison said when he thinks about quality coaches, leaders and human beings, Carver immediately comes to mind. "What a legacy he leaves,'' Harrison said. "All who knew him are better off for having that opportunity. He had a great impact on me.''
Que Tucker, commissioner of the NCHSAA, said she was deeply saddened to hear of Carver's passing. For years, Carver chaired the NCHSAA nominating committee, which presented names to the association for consideration as members of its board of directors.
"His presence was one that commanded respect and has been tremendously missed in recent years in the high school athletic community of our state because of his health,'' she said. "Our thoughts and prayers are with his family as they mourn his passing.''
Vernon Aldridge, the current student activities director for the county schools, called Carver an athletic legend.
"From his time as a coach, athletic director and student activities director, he had a tremendous influence on thousands of student-athletes and coaches in Cumberland County,'' he said. "He has been a mentor to so many and will be deeply missed."
Deadline constraints prevent me from taking a deep dive into Thursday's meeting of the North Carolina General Assembly's Joint Legislative Commission on Governmental Operations, where members of the state house and senate spent just over two hours grilling N.C. High School Athletic Association Commissioner Que Tucker on how the association manages its endowment fund and why they are not more free-wheeling with giving some of that money back to the schools.
While the legislators did raise a few valid points, I was mainly struck by the hypocrisy of what I watched as these same elected officials questioned the management of what amounts to a fund that's microscopic in size when compared to the state's budget that the legislators control.
I wish someone from the NCHSAA had raised this question during the proceeding. If you're so worried about the NCHSAA handing out the money it has raised, why don't you do a better job dispensing taxpayer dollars to public education?
A website called Educationdata.org reported in October of 2020 that North Carolina ranks 45th in the nation on money spent on education, in spite of being the ninth-largest state in the country in terms of population.
I'd think the legislators need to devote far more of their attention to the purse strings they directly control rather than hounding the NCHSAA over its drastically smaller spending practices.
A pair of Cape Fear High School wrestlers, Dallas Wilson and Mike Vernagallo, have announced plans to enroll at the University of Mount Olive.
Wilson, who graduated from Cape Fear in 2020, was a three-time state champion for the Colts with a career record of 180-14.
Vernagallo is transferring to Mount Olive from Clarion University, where he wrestled for the past three seasons.
While at Cape Fear, he was a two-time NCHSAA champion and four-time placer in the state wrestling tournament. He was 93-0 his final two seasons at Cape Fear with a career record of 189-11.
Tonight is the first round of the truncated NCHSAA football playoffs, and four Cumberland County Schools will be in action, two of them head-to-head.
The feature game has South View, champion of the Patriot Athletic Conference, hosting county rival Jack Britt in a 4-A playoff game scheduled for a 6:30 p.m. kickoff.
South View is 6-1, having lost its opening nonconference game to Cleveland High School then recording six consecutive wins.
Britt's season was interrupted by a two-week COVID-19 quarantine. The Buccaneers were unbeaten until their final regular season game at Scotland, finishing 4-1. A rash of early Britt mistakes led Scotland to a 13-point lead by halftime and the Scots eventually won 20-3.
In another 4-A game, Pine Forest, which overcame a bumpy start to its season, will travel to face Raleigh's Cardinal Gibbons. The Trojans take a 4-2 record into the contest while Gibbons is 6-0. That game will start at 7 p.m.
The lone 3-A playoff game on the schedule has Terry Sanford home to Western Alamance. That game kicks off at 6:30 p.m.
Terry Sanford was the top 3-A team in the Patriot Athletic Conference, finishing 6-1. Its only loss came to league rival Gray's Creek. The Bears were knocked out of the playoffs the final week of the season when they lost to South View, giving them two league defeats, both to 4-A members of the conference.
Western Alamance takes a 7-0 record into the game.
Both the Terry Sanford game and the Britt-South View game can be heard on the radio tonight.
WFNC-640 AM, featuring Voice of the Bulldogs Trey Edge, will air the Terry Sanford game. Mid-South Sports will broadcast Britt and South View on Sunny 94.3 FM.
SCORES
April 9
Football
E.E. Smith 42, Douglas Byrd 2
South View 40, Gray's Creek 21
Scotland 20, Jack Britt 3
Terry Sanford 35, Overhills 31
Cape Fear 41, Westover 27
April 12
Girls' soccer
Overhills d. Douglas Byrd, forfeit
Pine Forest 5, South View 1
Seventy-First 0, Hoke County 0
Gray's Creek 4, Terry Sanford 1
Lumberton 1, Jack Britt 1 2 OT
Fayetteville Christian 6, Cape Fear Christian 1
Softball
Overhills 3, E.E. Smith 0
South View 11, Pine Forest 1
Gray's Creek 13, Terry Sanford 0
Cape Fear Christian 14, Fayetteville Christian 1
Lumberton 4, Jack Britt 3
Baseball
Freedom Christian 12, Northwood Temple 0
Cape Fear Christian 11, Fayetteville Christian 10
April 13
Baseball
Coastal Christian 8, Fayetteville Academy 2
Freedom Christian 20, Cape Fear Christian 9
Girls' soccer
Coastal Christian 5, Fayetteville Academy 0
Softball
Cape Fear Christian 11, Freedom Christian 1
April 14
Softball
Gray's Creek 21, Pine Forest 0
South View 12, Overhills 0
Jack Britt 3, Richmond Senior 1
Cape Fear Christian 14, Fayetteville Christian 0
Girls' soccer
Gray's Creek 1, Pine Forest 0
Overhills 4, South View 3 OT
Lumberton 1, Seventy-First 1 OT
Cape Fear d. Douglas Byrd, forfeit
Fayetteville Academy 5, Fayetteville Christian 1
April 15
Girls' soccer
Gray's Creek d. Douglas Byrd, forfeit
Softball
South View 7, Cape Fear 6, 8 innings
Gray's Creek 12, Overhills 0
Cape Fear Christian 13, Freedom Christian 4
Baseball
Harrells Christian 7, Fayetteville Academy 6
Grace Christian 32, Fayetteville Christian 5
Freedom Christian 19, Cape Fear Christian 6
PHOTO OF THE WEEK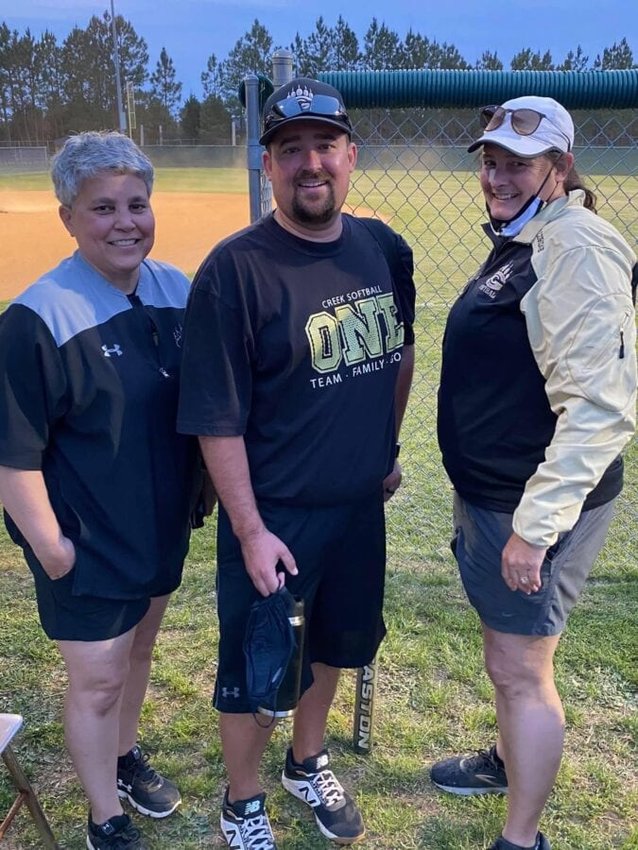 Gray's Creek High School softball coach Stuart Gilmer reached a milestone earlier this week when his team defeated Pine Forest 21-0. It was the 200th career victory for Gilmer, giving him a record of 200-87. During his years with the Bears he has led his team to four conference titles. Pictured with him are his assistant coaches Joni Scott, left, and Kellie Aldridge, right.[/caption]