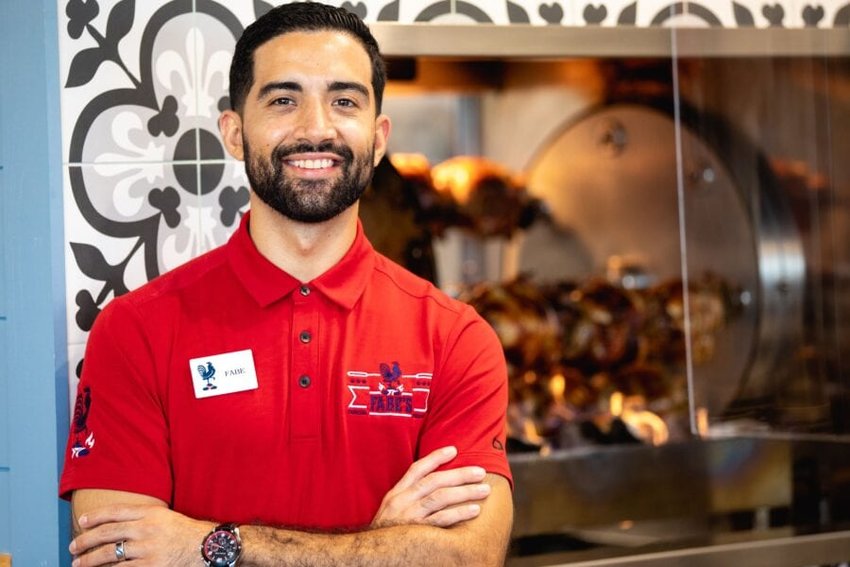 BY: JANET GIBSON
Just like nearly everybody on the planet, Fabian "Fabe" Llamas had high hopes for 2020. For more than a year, he had been working on opening his own restaurant – navigating red tape, jumping through hoops, overseeing the construction of a well-designed space, ensuring deliveries of the freshest possible ingredients and training a team of friendly professionals. On Jan. 2, his vision came to fruition.

Fabe's Charcoal Roasting Co. opened in Freedom Town Center with the requisite fanfare, including a Chamber ribbon-cutting and the first of regular pop-ins by New York Knicks point guard Dennis Smith Jr., who is originally from Fayetteville.

Word of mouth grew, and folks soon discovered the star of the show: Peruvian inspired chicken that's been marinated in a secret blend of spices and fire-roasted over wood charcoal to crispy goodness on the outside and tender, juicy perfection on the inside. Pick and choose quarters or halves, white, dark or a mix, cafeteria-style, followed by a choice of generous sides, including black beans and rice, fresh green beans in a garlic sauce, hand-cut fries, yuca fries, corn, coleslaw, tostones or fried green plantains and positively addictive maduros, or sweet golden plantains. Best part? A satisfying lunch or dinner often runs under $10, including a
fountain soft drink or iced tea.
"I call us a pollo a la brasa," Fabian says. "It means we're a chicken joint.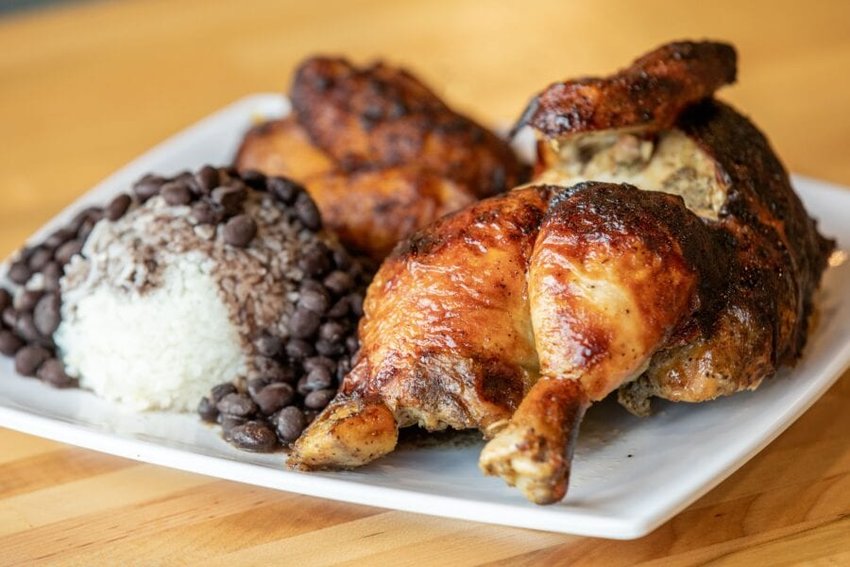 The opening not only marked another delightful addition to the international restaurant scene in a city known as one of the most culturally diverse in the country.
Italso was the story of a "hometown boy done good." Fabian grew up in Fayetteville, where he graduated in 2009 from Village Christian Academy. He's of Mexican heritage, and family members owned the former Monterrey restaurant. His brother-in-law started the successful Alpaca chain of Peruvian rotisserie chicken restaurants in the Triangle.
After Fabian earned his business degree from East Carolina University, he worked for two years as a marketing associate for Sysco, the food distributor. "I sold green beans for a living," he quips. Then he put his mind, and business acumen, into creating Fabe's.
"We were incredibly thrilled," the 30-year-old entrepreneur says about the early response to Fabe's. Business was good in January – and even better in February.
Then COVID-19 hit. March was tough, and in April, sales took a nose-dive. The restaurant went from roasting 250 to 300 chickens per day down to 150 to 200. (The chickens, by the way, cook at 325 degrees for exactly 1 hour and 45 minutes.)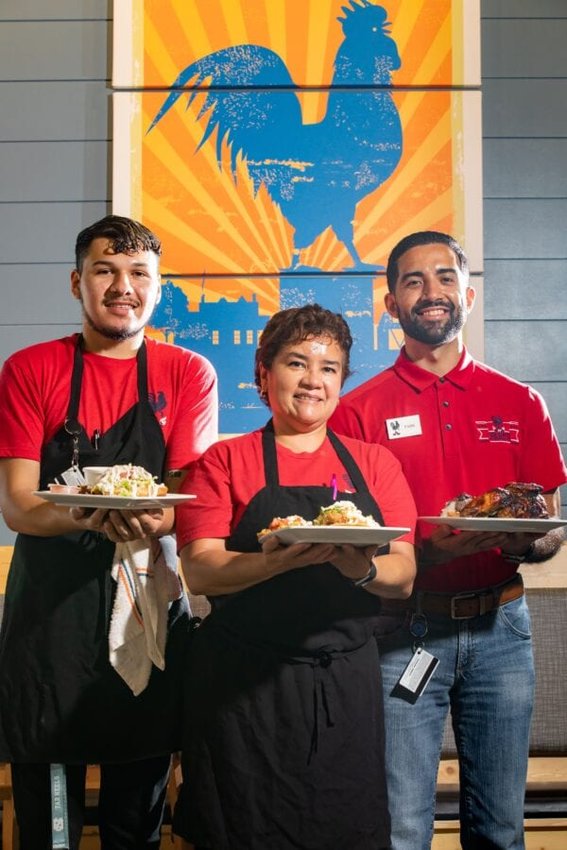 Like many restaurant owners, Fabian had to rethink, retrain, reconsider. The sanitizers, masks and plastic gloves came out in full force, of course. Select tables were closed off for social distancing. It also helped that the restaurant is designed with a separate entrance for takeout orders – and has a covered outdoor patio. Signs pointing to the restaurant were placed at strategic locations in and around Cliffdale Road near Skibo.

"We even turned off lights to save electricity. We had to cut some hours, but didn't let anyone go," the determined owner says.

"One of the things I'm most proud of is we didn't let anyone go." Among those who help keep the restaurant humming are Fabian's mom, Maria "Mama Mary" Guzman, and his cousin Rafael Llamas, who is general manager. A friendly vibe permeates the space that is decorated in industrial chic and with a large wall panel of photos, many depicting Fayetteville life – from the military presence to Segra Stadium to rapper J. Cole. Piped-in salsa music contributes to the happy vibe.
Fabian also has expanded his menu. Daily specials are bringing in new customers and the faithfuls. Taco Tuesdays includes three chicken tacos in soft tortillas, heavy on the cilantro, and quite possibly enough to share with a friend. Another enticing selection is Arroz Chauffa, a light, stir-fried rice with bits of rotisserie chicken, eggs, scallions and shredded carrots. A jerk chicken option and deep-fried chicken flautas also are growing in popularity. All are impeccably fresh.

"I'm a very optimistic person," Fabian says. "We're going to keep fighting. It's been a heck of a roller coaster.
THE PLACE:
Fabe's Charcoal Roasting Co.,
2715 Freedom Parkway Drive (off Cliffdale Road near Skibo), Fayetteville. Phone: 910- 252-8956, fabesroco.com.
Order cafeteria-style and dine indoors at socially distanced tables, on a covered outdoor patio, or call in your order and pick up at a separate entrance. Catering also is available.
SPECIALTIES:

Peruvian-style rotisserie chicken that's been marinated in a secret blend of spices and slow roasted over natural wood charcoal to tender and juicy
perfection.
Black beans and rice are popular side items.
The fresh green beans in a garlic sauce are superb.
Excellent sweet plantains!
Daily specials and, yes, they do "Taco
Tuesdays."
Save room for dessert, notably
the tres leches, or "three milks cake."

PRICES:

Bargain to moderate. Lunch or dinner for two averages $20-$24.

HOURS:

Open daily from 11 a.m. to 9 p.m.