WITH LOVE AND A SMILE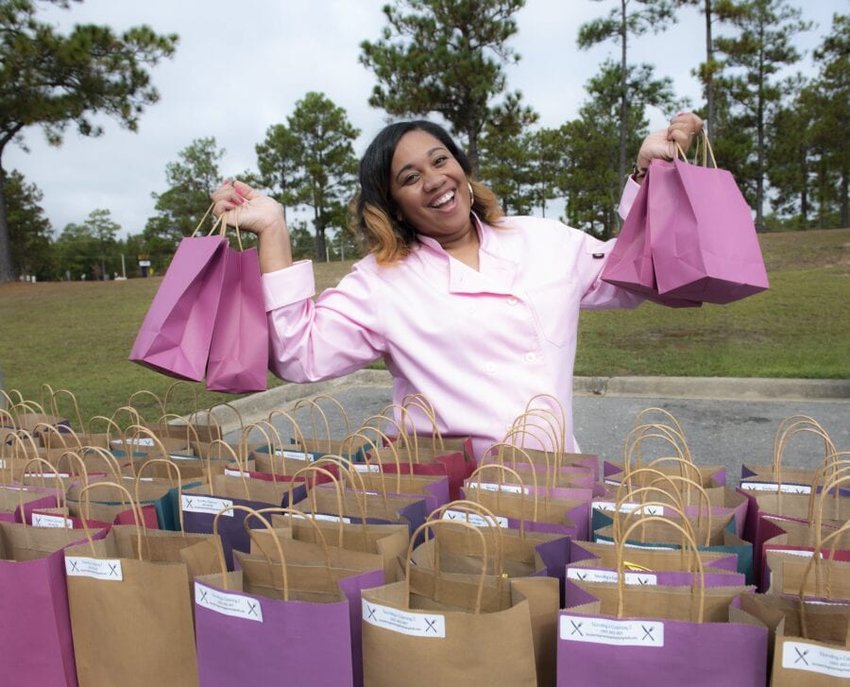 For Jelisa Montalvo, it all started years ago with Dorothy.
That would be Dorothy McGeachern, Jelisa's late grandmother, who was well-known as an extraordinary cook, seamless event planner and kind-hearted person.
"When I was a little girl, I would ride with my grandmother, and we would deliver boxes of food to older women in the Savoy Heights neighborhood," Montalvo said. "Whether they were members of our church or people she would meet in the grocery store who were in need, I can remember us doing this almost every weekend."
Between her stints as one of Fayetteville's most popular caterers and as food service director for Snyder Memorial Baptist Church, McEachern would buy cases of fresh fruit and vegetables to give away.
"I was always excited to ride with her," Montalvo said, "and help the older ladies out of their chairs on the porch, walk them down to the van and help them pick out the fruits and veggies that they wanted that week."
Montalvo, now 32, has carried on her grandmother's catering business while adding her own updated touches in what is now called Dorothy's Catering 2. She also carries on her grandmother's spirit of giving and goodwill. Montalvo, her staff and her family have served thousands of meals during hurricanes, helped single mothers and families in need throughout the year and have served hot meals and bagged lunches many times during the current pandemic.
On one recent morning, Montalvo and assistant Danielle Jenkins lined up neat rows of bagged lunches and served them to the teachers and staff at Pine Forest High School. "She does everything with love and a smile," read her nomination for CityView Power of Giving Community Impact Awards. "Cumberland County appreciates this 'hidden gem.' I can't tell you the many nonprofit organizations she has provided meals for free of charge. It's unheard of what she does, and she does it well."
Montalvo also serves as a mentor to teenagers, hiring young people in need of employment whenever she can and teaching them the life skills they need to succeed. "It all started with Dorothy and her genuine love for giving back," Montalvo said. "If we aren't serving, I don't know what we are here for...." To whom much is given, much is required. For more information, go to dorothyscatering.com
IT ALL STARTS WITH A FIRM FOUNDATION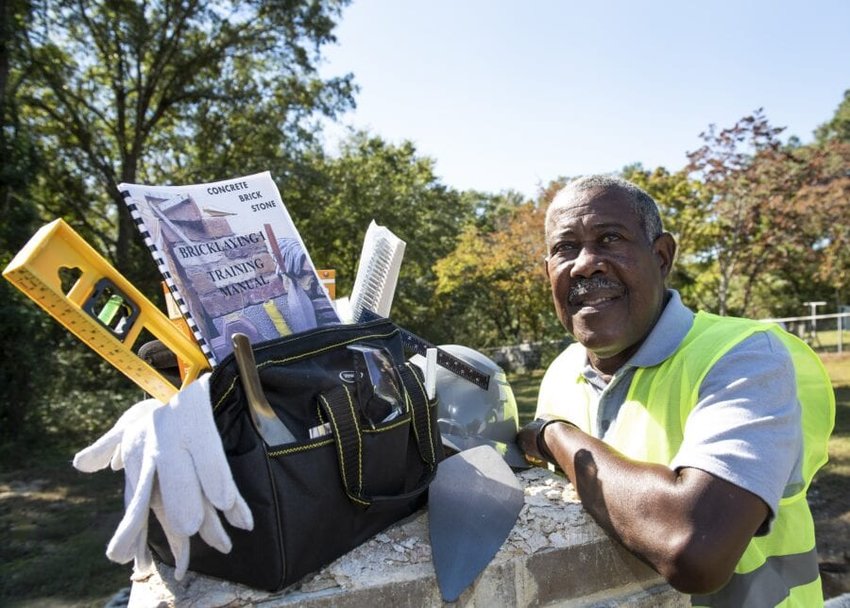 Milton "Levi" Underwood will tell you that, always, it pays to start with a firm foundation. "You have to start right, from the ground up," he said. "You have to keep everything level and plumb and with a straight edge. If you do that, you can't go wrong."
That's how you build a house. It's how you build a life.
Those were Levi Underwood's beliefs throughout his long career as a brick mason and as owner of Underwood Masonry Company. He retired in 2017 after 34 years of hard work and craftsmanship, a dedication to detail that allowed him to provide a comfortable life for himself, his wife of 51 years, Deborah, and their three sons.
He wasn't sure what to expect when he decided to try to share his knowledge and his belief in diligence with others. He launched his first Bricklayer Training Course in a vacant lot off Murchison Road, with the help of construction materials donated by businesses such as D.R. Allen and Son and Adams Products.
His mission was to help others learn that a good life doesn't always require four years of liberal arts classes. "But we didn't think anyone would take the course," Deborah Underwood said. "We were thinking that if six or eight showed up, that would be good.
"That first day of registration," she said, "we had 21 to show up." Some 40 students have since graduated from the course. For the $50 fee, they leave fully prepared to show up for their first day of work, including with a set of specialized masonry tools that they receive at their graduation ceremony, down to a protective hard hat and safety vest.
His students' progress has often led to poignant moments for Underwood.
There was the 89-year-old man who completed the course so that he would have the ability to oversee the construction of barns on his property. A couple of females also have completed the course. There was the student who now makes a good living building elaborate brick mailboxes in Greensboro.
And then there was the student who hadn't graduated from high school but was proud to have made his way through Levi Underwood's course. "He asked if his mother and grandmother could come to the ceremony," Deborah Underwood said.
"They came and took pictures of him. He was so excited."
Levi Underwood's uncle, the late J.T. Johnson, sent young men from his prison ministry who wanted to take the course. "He always told me, 'These guys need a chance too,'" Underwood said. "I figured if I learned how to do it, they could learn. My motto is 'Give a man a fish, and he'll eat for a day. Teach a man to fish, and he'll eat for a lifetime.'''
The current pandemic has necessarily put the course on hiatus for now, but Underwood is ready for when it can return.
"I think after the pandemic, it's going to be wide open," he said. "It's been so well-received. Once you learn something like this, no one can take it away from you."
Contact Milton "Levi" Underwood at munderw245@aol.com.
TEACHING VETERANS TO LIVE OFF THE LAND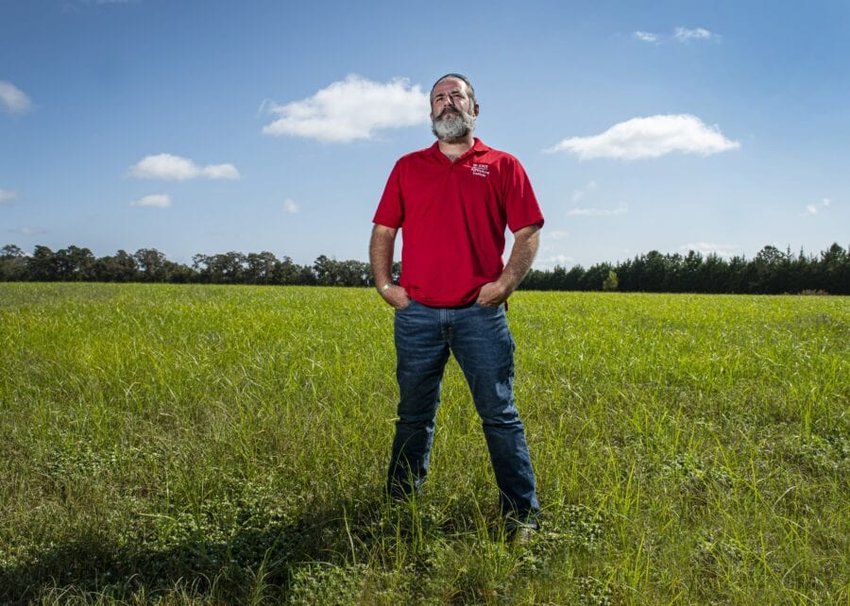 Despite taking a wrong turn somewhere along the way, we had nevertheless managed to arrive a bit early to our destination. Robert Elliott texted to say he was on his way.
Meanwhile, an affable white-haired man in a bright orange shirt drove up to the Sampson County farm where
we waited. We figured we had time to strike up a bit of a conversation. Would this gentleman happen to know Robert Elliott? Well, of course he did. These days, it seems that just about everyone is learning about Robert Elliott.
"You could not find anyone who's worked harder toward a goal than Robert," said Tom Jackson, who turned out to be the owner of the farm. Elliott is busy these days. He's one of the founders of the Soldier to Ag program at Fort Bragg through N.C. State University to train soldiers how to make a successful transition out of the military and into a career in farming. He teaches them how to farm, how to buy a farm and how to acquire funding.
"A lot of the same things it takes to be a veteran, it takes to be a farmer as well," he said. " A lot of perseverance and being headstrong. A lot of getting up early and going to bed late. Doing what you have to do to accomplish the mission. It's the same thing as being in the military."
A Franklin County native who grew up in a farming family, Elliott joined the Marines out of high school, serving for five years as an aircraft mechanic. He found the transition back to civilian life devastatingly difficult until he did something unforeseen: he returned to farming.
"Farming saved my life," he said. Today, Elliott owns Broad River Hemp Company in Fayetteville. And through Veteran's Farm of North Carolina and the Soldier to Agriculture Program at Fort Bragg, he teaches veterans basic agriculture skills.
At a recent fundraiser, Boots to Roots, local veteran farmers provided the ingredients for a farm-to-table menu created by Brian Graybill, chef of Napkins, the restaurant at DirtBag Ales. The result was amazing food and a successful fundraiser.
"Robert Elliott has taken on a cause that is rather crucial for North Carolina, and that is training veterans how to be farmers," said Jenny Bell, in her Impact Awards nomination of Elliott.
"Thanks to Robert's innovative program, the Soldier to Agriculture Program, on Fort Bragg, veterans have been given hands-on training in the agriculture industry, helping them to transition from the military life into civilian life. He is a connector of resources and assistance and has helped countless farmers throughout North Carolina.
"Additionally, his nonprofit organization, the Veteran's Farm of NC, is launching a brand new initiative called Veterans Agriculture Training and Education Program to offer veterans an even more in-depth training in agriculture basics," she said.
Contact Robert Elliott at vetfarmofnc@gmail.com
HIS LOVE OF VOLLEYBALL SPIKES A LOYAL FOLLOWING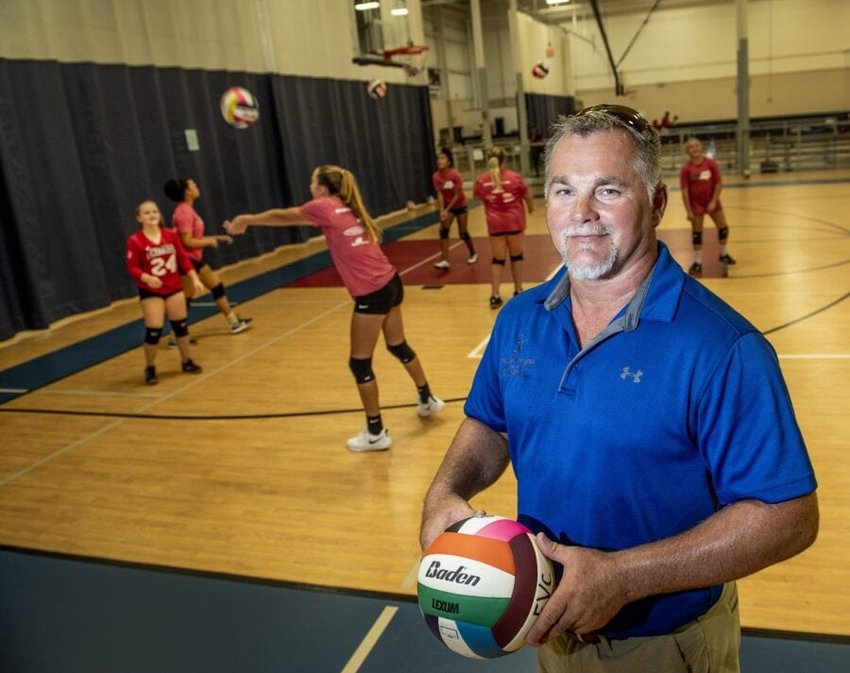 Danny Sealy was in a bit of a bind. The Army had brought him and his family to Fayetteville at a time of the year when local traveling volleyball teams already had picked all their players. That was in 2017, when his daughter Brianna was 14 and really hoping to have a chance to play the sport she loves.
Coach after coach told the Sealys there was no room for Brianna on the team. Until, that is, Danny Sealy called Steven Godbold. "He told me to bring her over on a Sunday," Sealy said. "We haven't left since."
Welcome to Eastside Volleyball Club, where the coach works a full-time day job at Century Link, then puts in hours teaching youngsters the sport he loves. And where, best of all, players like Brianna Sealy, now 17, have always feel welcome.
"It's a small club, but it's big in heart," said Danny Sealy, who now serves as one of the club's coaches.
"Steve's an awesome coach." For Godbold and his wife Jackie, volleyball has long been a way of life. A lifelong athlete, he fell in love with the sport from the time he walked onto the sand of a beach volleyball court as an adult.
"I never had any idea he would carry it to this level," said longtime friend Bobby Wilson, himself an accomplished player who helped Godbold learn the sport. "It became his heart. He loved the sport and wanted to see it grow."
Jackie is the one who keeps things organized, while both their daughters, 22-year-old Taylor and 13-year-old Mason, were talented players. Taylor, in fact, is the one who nominated her dad for a CityView Power of Giving Community Impact Award.
"He'll stay up late nights organizing for practices and tournaments," she wrote in her dad's nomination.
"On his days off, he's improving the facilities or helping an eager player get better. Steven Godbold is the hardest worker with the biggest heart and that's something I will always admire about him."
Contact Steven Goldbold at eastsidevbc@gmail.com