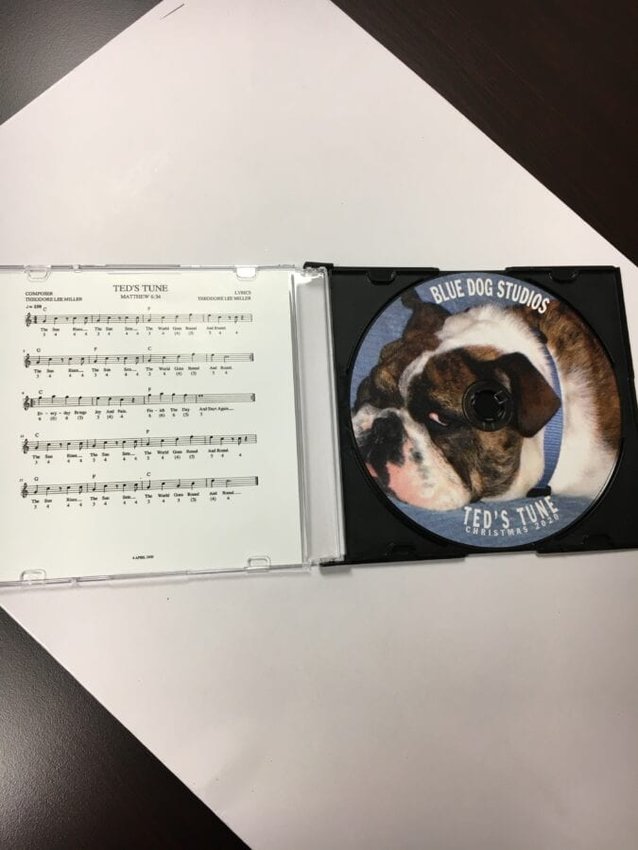 By: Kim Hasty
Ted Miller is a man with a seemingly never-ending supply of dog treats in his pockets. As it turns out, he's always had a song in his heart as well.
"I'd always wanted to learn to play a musical instrument," he said. "I tried piano as a kid from my mom, who was an excellent pianist. Then I tried violin, but that didn't take either."
An online harmonica course a few years ago did the trick. It didn't take long before he was blowing and drawing Creedence Clearwater Revival's "Have You Ever Seen the Rain?" and Woodie Guthrie's "Red River Valley."
For years, his dependability as a dog-walker and pet-sitter has been music to his clients' ears. He started Ted's Dog Walking Service after retiring from the military and built up a clientele of people who trust him with their furry friends. At Christmas, his clients often leave him baked goods or other treats as gifts. This year, his Christmas gift to them was a CD of his own original recording entitled "Ted's Tune."
It's a sweet rendition he based on the Bible verse Matthew 6:34, part of the Sermon on the Mount: "Therefore do not worry about tomorrow, for tomorrow will worry about itself ... Each day has enough trouble of its own."
He found he had a little extra time on his hands when the pandemic hit. Clients who normally relied on him when they traveled weren't able to travel so much any longer. He began dabbling with various recording programs on the internet.
"I'd hit a set of notes and decide I liked that, so I wrote it down," he said.
The lyrics were inspired by conversations with his wife over COVID-19 concerns.
"The sun rises … The sun sets," read the lyrics to "Ted's Tune." "The world goes round and round. Every day brings joy and pain. Finish the day and start again."
Miller said some clients were surprised to learn of his musical inclinations.
"I shared it because it's something I've done," he said. "Most importantly, I like it."