Babette Augustin admits she didn't know a herringbone from a houndstooth when she moseyed into The Mill End Store a few years ago after a colleague's going-away luncheon. But as she found herself surrounded by all the brilliant bolts of brocade, damask and tweed inside the shop at Tallywood Shopping Center, she had the undeniable feeling that she had come home.
"I had never been in a home décor fabric store," she said. "I did not know what home décor fabric was. I had no clue. I don't sew. I can do a button in 45 minutes with some heart palpitations. I staple my hems."
But she had a bench at home that her father had made her. The bench needed to be recovered.
"I had never seen so much fabric," she said. "I'd never had anything upholstered."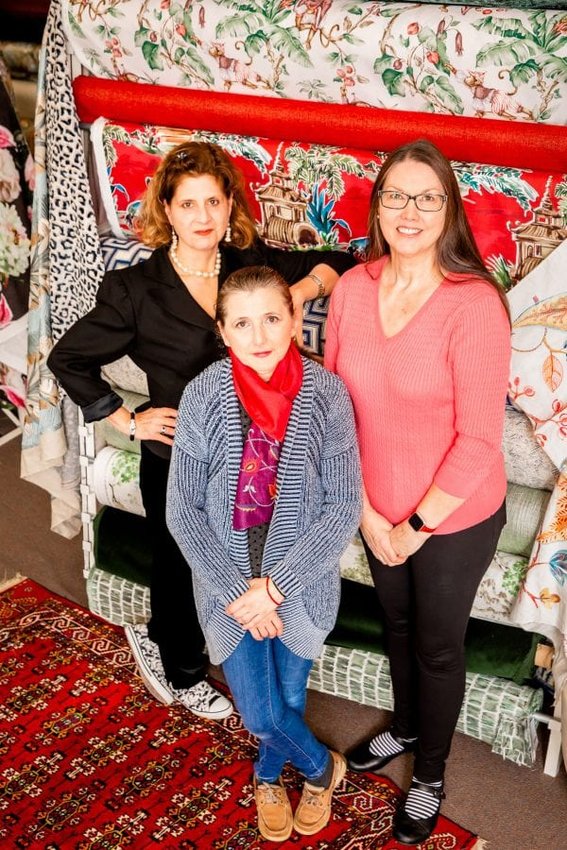 While surveying all the possibilities, she struck up a conversation with then-owner Ann Lewis, who filled her in on the history of one of Fayetteville's oldest woman-owned businesses. In 1975, Lewis bought The Mill End Store from her aunt, Edna Coniffe, who had founded the business in 1936.
"She told me how she had bought it and it had saved her life," Augustin said.
Though she'd earned a Master of Fine Arts degree, Augustin had spent 32 years in journalism and was photo editor for The Fayetteville Observer at the time. In 2016, she decided to leave journalism and learn the fabric business from Lewis, who relocated the store from Tallywood to Eutaw Shopping Center. After a year and a half, Augustin bought the business outright.
"You remember how exciting it was when you were growing up to get a new box of Crayola crayons?" she said. "That's how I felt. This is the world's largest crayon box. This has everything journalism has without the death and destruction."
She started by donating 15,000 bolts of fabric to over 75 nonprofits between Fayetteville and Richmond. Under the guidance of sales manager Robin Gantt, seamstress Nina Long and some benevolent fabric vendors, she used her savings to buy all new fabric.
"These vendors truly gave me my second graduate degree," Augustin said. "They gave me advice. They said invest in this; don't invest in that. We were rebuilding from scratch, essentially. I think in the last two-plus years I've gotten a better sense of what my clientele is looking for."
It turns out that many who pop into the store find more than just a little decorating direction. There's always a pot of coffee on, always something sweet for nibbling. Customers and those just browsing are welcome to pull up a chair and visit, an invitation many often accept. The pace here, set by Augustin, Gantt, Long and part-time design guru Martha Jessup, is customer service with a side of humor and compassion. Stephen Horne rounds out the staff as logistical manager.
"It's whole lot of fun," said Carole Goforth. "She has a great variety and a willingness to help."
Goforth most recently turned to The Mill End Store for help with beloved chair that had fallen victim to the constant gnawing of the family's beagle-cocker spaniel mix, who bears the ironic name of Gently.
Gently likes to sit in the chair with Carole's husband, R.B.
"If he's in the chair four hours, she's in his lap four hours," Carole Goforth said.
Which is the kind of little tale that Augustin loves to hear.
"This business gives me everything that I went into journalism for: to listen to people's stories and to meet people," she said. "That's what I get to do here. We're sort of this hub. We're like the hairdressers in 'Steel Magnolias.' We connect people.
"And it's absolutely fabulous."