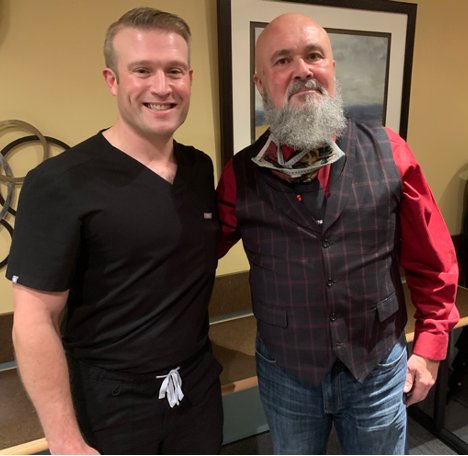 Hunter Glass will count his blessings Thursday, when taking his place at the head of the Thanksgiving Day dinner table. And among those blessings he will be thankful for is the kindness and compassion of a dental periodontist who put a patient's health before a paycheck.
When Hunter Glass takes his place Thursday at the head of the Thanksgiving Day dinner table, he will count his blessings … and a young Army dental surgeon will be among those blessings.
One look at Glass, and you'll find a healthy and sturdy 61-year-old who is a retired detective from the Fayetteville Police Department, where he investigated gang-related crimes and was an investigator who meant business and took no guff.
But for Hunter Glass, life was one of chronic misery and getting worse year after year, until he could stand it no more.
"I couldn't eat," he said. "I couldn't chew. I couldn't get food in my mouth and I lost weight. I would drink SlimFast. I had sleep apnea, and I couldn't even sleep sitting in a chair" without gasping for breath.
Glass still teaches and lectures about gang-related criminal activity and Special Operations security to the military. But his post-retirement work was suffering due to the excess mandible bone underneath his tongue, known as mandibular tori. It was affecting his finances, too.
"I was drooling," he says, "when I was teaching and lecturing."
Glass years before had seen Dr. Jerry Beatty, the late oral surgeon at Sandhills Oral Surgery & Implant Dentistry, but Glass opted to live with his misery until swelling and inflammation became too much.
"I was reading through Dr. Beatty's notes," says Dr. Joshua Berridge, a Fort Bragg major and periodontal and implant surgeon, who moonlights at Sandhills Oral Surgery & Implant Dentistry. "Dr. Beatty said it was the biggest he had ever seen."
By August, the condition finally had reached a critical point for Hunter Glass, and on a scale of one to 10, Glass says, his pain was "eleven."
'Not just dental … it's medical'
Berridge says it was one of the worst cases of tori bone growth he has seen in his professional career, and what Berridge describes is like have three jaw breakers lodged in your mouth.
"He couldn't breathe," Berridge, 34, said. "It was affecting his everyday life – affecting his daily life and affecting his heart. It was affecting everything. That's the reason for the pulmonary issue. I said, 'We need to get this out. It's affecting you, and it's not just dental … it's medical.'"
Hunter Glass had one other issue – paying out-of-pocket for the cost of the surgery because his insurance, he said, would not accept a claim.
"They said it was cosmetic surgery," he said. "I was going into portions of my retirement. I'm on a fixed income. That's the reason I didn't get it done the first time. My wife and I talked about it, and said we just have to do it."
But several thousands of dollars, Glass said, is expensive when you are not doing your consulting work and money is tight. Dr. Raymond Lupkas, an anesthesiologist and veteran who works with Dr. Jones and Dr. Berridge, agreed to waive his fee.
Dr. Joshua Berridge conferred with Dr. Gary Jones, owner of Sandhills Oral Surgery & Implant Dentistry. Jones himself is an Army veteran.
"I said, "What if we charge him half and see if it will help him?" Berridge said. "We decided to do that."
And then Berridge got to thinking some more about Hunter Glass, the financial burden and that mandible bone that was affecting the Army veteran's health.
"I thought, 'What am I doing charging him half?'" Dr. Berridge said. "I said,Veterans Day is coming up and why don't we just do this for nothing? Let's just treat him and get him back to health."
Dr. Gary Jones said agree.
"Awesome," Jones said without hesitation. "Great."
Epilogue
Today, Hunter Glass is a grateful man.
"This is life-changing," Glass said. "I'm still stunned. Even my kids will tell you. There are very few people who give anymore. Because of COVID-19, I had to give up working to take care of my daughter. Outside of online, it's been almost impossible for me to work. There is no traveling for lectures or training. Conferences and classroom training are almost nonexistent. That's why I said we would have to dive into my retirement funds to make it happen. It's hard to explain how something like this operation affects my whole life. Not only is Dr. Berridge an incredible surgeon, he is an awesome human being. You can see that his sincerity is 100 percent real. I am forever indebted to Dr. Berriedge, and a special thanks to Dr. Lupkas."
Dr. Joshua Berridge is humbled by his patient's words and gratified that Hunter Glass has a quality of life better today than yesterday.
"It's one less paycheck, and I'm not worried about it," Dr. Joshua Berridge said. "It was worth so much more."
Bill Kirby Jr. can be reached at bkirby@cityviewnc.com, billkirby49@gmail.com or 910-624-1961