BY: KIM HASTY
PHOTOGRAPHY BY: CINDY BURNHAM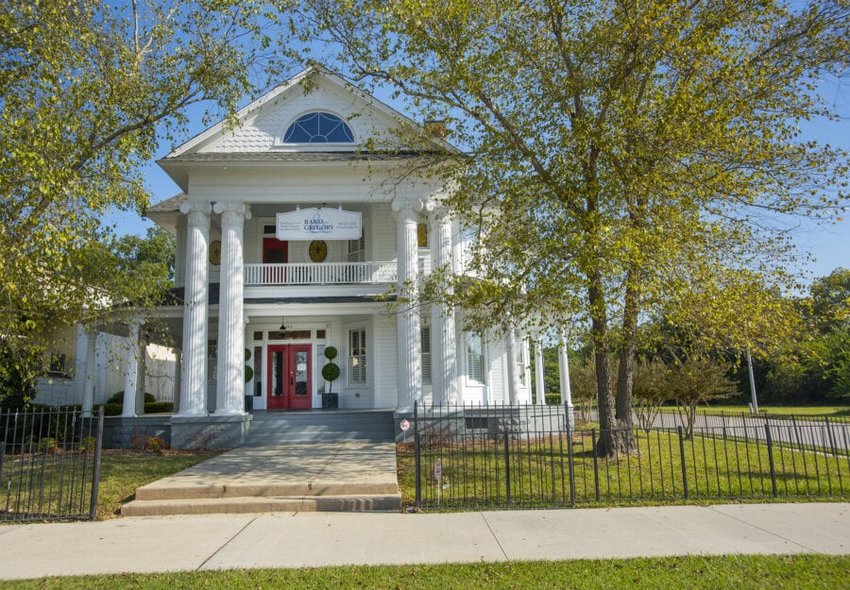 Rand&Gregory , Attorney at Law 343 Person Street Fayetteville, NC[/caption]
From the second floor, the vintage Morse Electrophonic stereo system is likely to be spinning Christmas selections this time of year from one of Randy Gregory's collection of thousands of vinyl record albums.

Downstairs, Caroline Gregory's office features a Lucite light fixture, a leather sofa and a chair done in blush-colored upholstery that belies the fact that it's really a functional and durable piece of office furniture.
"You could pour a whole bottle of red wine on it, and it would wipe right off," said Blair Alligood, of MBA Interior Design. "Not that anybody would do that in a law office."
This father-daughter legal team is breathing new life and a decided flair to this historic structure at 343 Person St., which is now home to their firm, Rand & Gregory Attorneys at Law. Built around 1900 as a family home, the structure most recently housed the law firm of Jim Parrish and Jim Cooke, who had extensive renovations done in 1988 to repair
damages that had resulted from the passage of time and a fire.

"It was on the demolition list," Randy Gregory said. "They're the ones who saved it. I like to think their brain waves will come through these walls."
The vibe in this law office is unmistakably one that pays homage to history, tradition and indelible bonds, as well as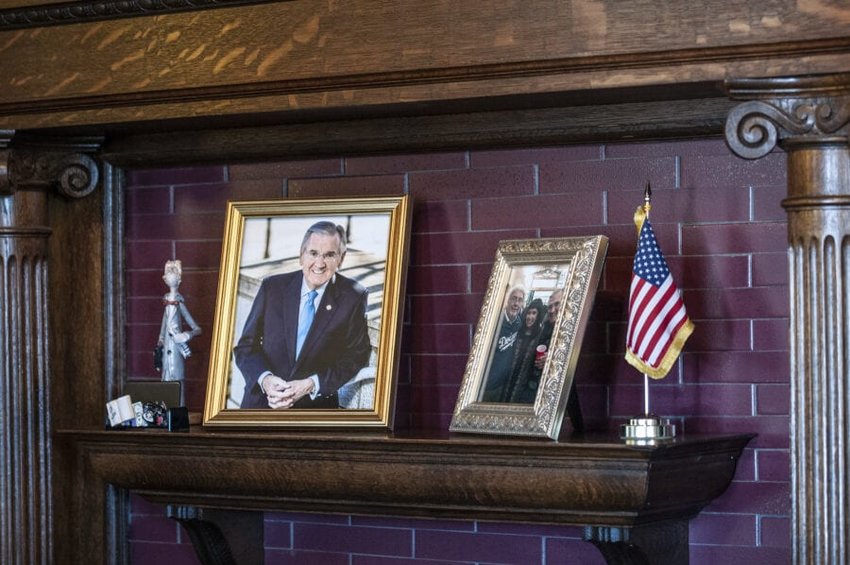 A framed photo of the late Tony Rand on mantel in the entrance of Rand & Gregory , Attorney at Law.[/caption]
touches of the cute and quirky. That's what happens when you combine two very different people who are also obviously crazy about each other.

Caroline Gregory, 34, earned a political science degree from the University of North Carolina at Chapel Hill, and earned a Master of International Studies degree from N.C. State before deciding to enroll in law school at
her father's alma mater, Campbell University.
After graduating in 2014, she did a stint at the Cumberland County Public Defender's office before joining the practice with her father and Rand, who was like a second father, in 2016.

"I really loved being a public defender," she said. "But I kind of started to like the feeling of being in a family business.
"The good news is that Randy knows everything," she quipped. "But what he doesn't know, I can tell him."

They kept much of the original structure, including stained-glass windows, hardwood floors that had been covered with carpet, inlaid ceramic tile in the entryway and hand-carved mantels over the fireplaces. A display of cannon balls from the American Revolution greets visitors in the front hallway.
Randy Gregory, both a history buff and fan of estate sales, added interesting finds, including a large chandelier in the upstairs conference room. His wife and Caroline's mother, Anne Gregory, washed each individual crystal by hand.

Alligood, meanwhile, got busy doing research in an attempt to maintain the historical integrity of the home. She said the decision to go with shades of burgundy, pink and green was more fitting to the period the house was built rather than, say, a lawyerly navy.

"It really was a lot of fun," said Alligood, who offered suggestions but deferred to input from both father and daughter. "They made it super easy. Both had distinctive thoughts and ideas, but they were also very open to new ideas."
The legacy of a third partner lives on in the office as well. Tony Rand, who would go on to become a renowned state senator, forged a partnership with Randy Gregory on the basis of a handshake alone in 1979.

"And we operated on a handshake for over 40 years," Randy Gregory, 72, said. "He always said that if it had to be in writing, then you ought not to be partners."

Rand died on May 1 at age 80 from the effects of a long battle with cancer. But his desk still sits in an office with walls papered in the light blue of his beloved North Carolina Tar Heels.

"Tony was very, very sick when we started working on this place, but he knew where his office was," Randy Gregory said. "I told him as long as his name is on the firm, he'll always have an office here. And the name of the firm will never change."

Best of all, the renovations add to a community to which both father and daughter are dedicated.

"I like to think of it as the property of downtown," Randy Gregory said. "They just don't build things like this anymore