BY KIM HASTY, November 2021
PHOTOGRAPHY BY RAUL RUBIERA JR.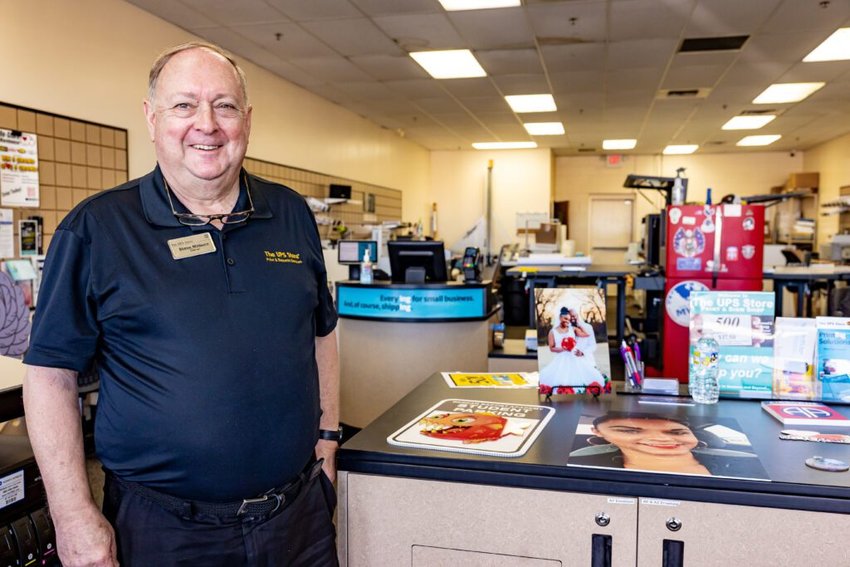 Long before he was a successful local business owner and long before he took on the kind of involvement in charitable organizations that would seem exhausting to many, Steve Milburn learned the Golden Rule as a boy growing up in St. Louis.
"My family always raised me to help others," he said. "My parents taught me that when you do that, you'll be blessed beyond belief."
Milburn is a 1976 graduate of the U.S. Military Academy who went on to a career as an Army aviator. He retired as a lieutenant colonel, and he and his wife Debbie made Fayetteville their home for good. In 1996, they bought a Mail Boxes Etc. franchise in Westwood Shopping Center that is now known as The UPS Store 2974.
"I love the people here," Milburn said. "I love the military, and I loved my troops. I love the diversity here. I have a lot of great friends who are veterans."
In nominating Milburn for CityView's Power of Giving Community Impact Awards, Ann Shaw pointed out his work with the Kiwanis Club of Cape Fear, for which he has served as both president and as lieutenant governor of the Carolinas District.
She also noted that he is a past president of the Fort Bragg Armed Services YMCA Board of Directors and past member of the National Armed Services YMCA Board of Directors.
He has served as finance council chairman of Saint Patrick Catholic Church for 10 years and is a past president of The Care Clinic board of directors. He has been a member of the Fayetteville Planning Commission and is the current president of the Greater Fayetteville Exchange Club and current member of the board of directors for both The Salvation Army and the Center for Economic Empowerment and Development.
"He and his wife Debbie contribute monetarily and with print products to many nonprofits in the city and county," Shaw wrote in her nomination, who said she often turns to Milburn for help with organizations with which she volunteers. "I know I can always count on him. Sometimes I think he's crazy with all the things he does for others. He's always been a very kind person."
Whenever the late John Poulos approached Milburn about buying tickets for the Kiwanis Club of Cape Fear's annual pancake breakfast fundraiser, Milburn proved to be a loyal customer.
"You need to join Kiwanis," Poulos told him. That led to both many years of service to the club for Milburn, as well as a memorable friendship that lasted until Poulos died in July 2020.
"John Poulos was like second father to me," Milburn said.
Milburn points out that Kiwanis of Cape Fear raised $70,000 last year through the pancake breakfast and an annual golf tournament, making donations to a variety of nonprofit organizations, including Fayetteville Urban Ministry, the Child Advocacy Center and The Care Clinic.
"When I do something for someone it gives me great joy," he said. "I feel good that I've accomplished something. I have to give back; I feel like it's my duty."
While he said he appreciates being one of the recipients of this year's Impact Awards, he said his parents taught him never to draw attention to himself.
"I'm honored and humbled," he said. "But I don't consider myself anybody special. I'm just a citizen of Fayetteville who wants to help others.
"I'm really happy but humbled at the same time," he said. "I don't feel like I really deserve an award."