A Salute to our Veterans …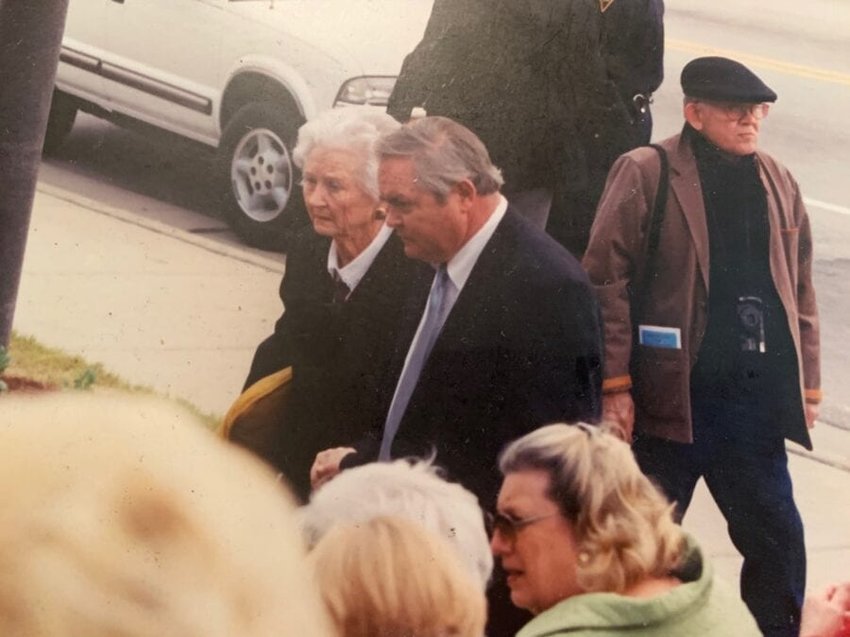 It was a cold and windy day in March of 2005, when Mama, who was frail and fragile, joined with Cross Creek Garden Club members Elaine Nunnery, Gussie Ammons, Heather Andrew, Juliet Brantley, Carolyn Campbell, Linda Chambers, Joan Elliott, Lourine Hall, Katherine Hurtado, Evolyn Joyner, Grace Henderson, Doris Lee, Bennie Melvin, Donna Myers, Debbie Nepstad, Marie Phelan, June Reichle, Jacqueline Russ, Martha Claire Sutton, Carol Swinson, Sara Frances Wade and Billie Widman for placement of the refurbished Blue Star Memorial Highway marker at Freedom Memorial Park.
Daws To Deliver Remarks Wednesday at Freedom Memorial Park

Commander Bruce Daws of the Fayetteville Independent Light Infantry will be guest speaker as the Cross Creek-Briarwood Garden Club celebrates Veterans Day at 11 a.m. Wednesday, and where you always can count on the garden club to place a wreath on the Blue Star Memorial Highway marker that overlooks Freedom Memorial Park along Hay Street. Garden club members are Sybil West, Shelton Shearon, Gerri Arrowood, Joan Bowen, Carolyn Carter, Liz Edwards, Grace Henderson, Faye Highsmith, Ruby Jones, Connie Michaels, Debbie Nepstad, Jill Oehme, Jacquie Phillips Owen, Ginna Pugh, June Reichle, Rita Ruble, Kristin Smith, Polly Strickland and Billie Widman. "Is it on your schedule?" West, the club president, asked, wondering if I will be there for the ceremony. Always, Mrs. West. My late mother's fingerprints are all over the Blue Star Memorial Highway marker since that cold day on March 22, 2005, when it was placed and rededicated under the leadership of the late Elaine Nunnery. Always. Mrs. West. Always.
____________
Speaking of Veterans Day, you'll find no one in this community more patriotic than Don Talbot, curator of Freedom Memorial Park. "Veterans Day is coming, and I was thinking that it would be great to see a compelling story to get into the hearts and minds of our local populace to visit and support Freedom Memorial Park, the N.C. Veterans Park and the Airborne & Special Operations Museum," Talbot says. You'll get no argument, Mr. Talbot, from me.
____________
Steven Godbold, Levi Underwood, Jelisa Montalvo and Robert Elliot will be honored as the Fayetteville Public Works Commission presents CityView's Power of Giving Community Impact Awards Luncheon scheduled from 11:30 a.m. to 1:30 p.m. Thursday at Segra Stadium. Tickets are $30. Sponsors are H&H Homes, Village Family Dentistry, Cumulus Media and Eben Concepts.
____________
All of us have old televisions, computers, appliances, electrical cords, vacuum cleaners, chargers and out-of-date cellphones laying around the house, and an Electronic Waste Drive from 10 a.m. to 2 p.m. Saturday at Segra Stadium is offering an opportunity to rid ourselves of the items. Just place 'em in your vehicle and volunteers will be there to help. Televisions larger than 50 inches, large appliances and hazardous waste materials will not be accepted at the drive, but you can drop off those items at the Ann Street landfill or any of the container sites throughout the county. The E-Waste Drive is sponsored by the city, county and Sustainable Sandhills.
____________
Jimmy Townsend, the likeable owner of Townsend Real Estate, always reminds us to reset our clocks back an hour when Daylight Savings Time rolls around each autumn. "It's the one day each year," he says, "you stand a chance of making it to church on time." He's a witty sort and has a point.
____________
"What a great read on one of the kindest, most caring ladies I have ever had the pleasure to meet," Jeff Morketter writes in an email about our CityView Newsletter column of Oct. 17 on the late Nu My Pham, longtime owner of the old Hay Street Shoe Shop on Hay Street along with her late husband, Huyen Pham. "She embodied what a Christian is all about. Thank you for taking the time to write about someone that made a difference in a lot of people's lives – souls and soles."
____________
"Thanks for the wonderful piece on Nu Pham," Drew Ziegler writes about Nu My Pham. "The shoe shop was one of Fayetteville's treasures. I loved doing business there and over the years getting to know the whole family. What a unique American story." Nu My Pham, with her husband and young children, arrived in Fayetteville in 1975 from Vietnam. She died at age 75 on Oct. 13.
____________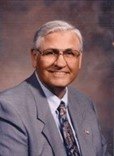 If you see a teardrop on Alger B. Wilkins High School, it's most assuredly for Billy "Bill" Nobles, who was principal for 25 years when the Cumberland County school served elementary students. A native of Columbus County, Bill Nobles had an uncanny knack for hiring some of the better classroom teachers Cumberland County has known, and all who served under his leadership will tell you so. "Mr. Nobles was a great mentor and educator," Estrelita Lugar writes on the Tribute Wall of his obituary. "I learned so much from him in all my years at Wilkins Elementary. He was always up front and let you know what he expected from you. He encouraged you to always strive to do your best, then rise even higher than your best. He cared for his staff and students. He elevated the achievements of the school. Some of the best principals in the state trained under him. He will be missed by many." Billy "Bill" Norman Nobles was 79 when he died Oct. 31. A Celebration of Life is scheduled at 2 p.m. Saturday at Haymount United Methodist Church, and be assured many of his students and teachers will be there.
____________
Sean Connery was the Scottish film star with a license to kill. "Bond, James Bond," he told us in seven films as British Agent 007 of Her Majesty's Secret Service motion pictures to include Dr. No (1962), From Russia with Love (1963), Goldfinger (1964), Thunderball (1965), You Only Live Twice (1967), Diamonds Are Forever ((1971) and Never Say Never Again (1983). There were others who played the role, from George Lazenby, Roger Moore, Timothy Dalton, Pierce Brosnan and Daniel Craig. But for those of us who remember those early beginnings, there was only one James Bond, with a martini "shaken, not stirred" and a "license to kill." Sean Connery died at age 90 on Oct. 31.
____________
"What a delight to read your article about Elizabeth MacRae and Ronnie Schell," Mary Beth Blakeley of Altamont, New York, sends along an email about our column in the September issue of CityView Magazine highlighting the reunion of the Fayetteville resident who portrayed Loo-Ann Poovie as Jim Nabors' girlfriend on the 1960s TV comedy Gomer Pyle, U.S.M.C. Ronnie Schell played the part of Gomer Pyle's sidekick. "I had googled them, hoping to find just the kind of article you'd written. Both of them continue to be two of my favorite actors of all time. Thank God for MeTV. I'm glued from 8 a.m. to 9:30 a.m. Monday through Friday reliving those fabulous episodes from my childhood. They provide a comforting reprieve from the pandemic, and no matter how many times I see them, they still bring me joy. I would love to be able to tell each of these gifted actors how much happiness they've brought to my life and my own children's lives. Would you be able to provide me with either an email or street address, and if not, would you be able to forward a letter to each of them for me? The only time I have ever written a fan letter was when I was about eight years old and that was to Billy Mumy on 'Lost in Space.' I blinked and here I am in my 60s, thrilled I might have one last chance to say thank you to two of my favorite actors while I still can." Take it from me, Mrs. Blakely, Elizabeth MacRae and Ronnie Schell would enjoy hearing from you, and just for you, I will make it happen.
Next Week: "I loved my brother, and he loved me"
____________
Bill Kirby Jr. can be reached at bkirby@CityView.com, billkirby49@gmail.com or 910-624-1961
JPEGS Below