BY: BILL KIRBY JR.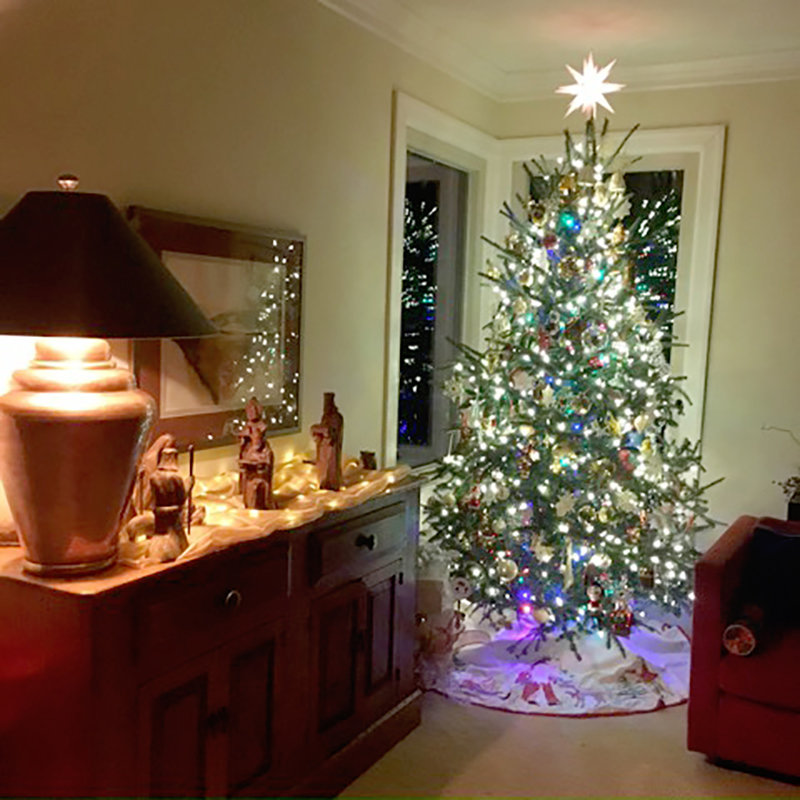 Yes, Virginia will tell you, there is a Santa Claus. And neither cold nor wind nor rain nor sleet nor COVID-19 is keeping jolly old Saint Nick away this holiday season.
"I've got to start getting our Christmas decorations down!" Virginia said, and the Butterball still was two weeks away from Thanksgiving defrost.
OMG, I'm saying under my breath.
"Christmas decorations," you see, is code for yours truly.
Let me decode all of this deliriously happy holiday cheer for you.
"Bill, you have to go up the stairs and into that junk room and bring the Christmas decorations down," Virginia was actually saying, "and I will be down at the bottom of the stairwell watching you bring box after box after box after box after box of Christmas decorations down the steps."
Take ol' Bill's word here.
You have no idea of what it is like at this two-story home overlooking Mirror Lake, when the holiday season comes around, beginning with delivery of the Christmas tree that stands all the way to the living room ceiling.
And don't forget the Moravian star at the top. That will be the star that ol' Bill has to climb up on the kitchen footstool to place it just perfectly.
"No," Virginia, the holiday-decorating drill instructor, will offer, "a little more to the right."
Back onto the kitchen footstool for ol' Bill.
"No," Virginia, the holiday-decorating drill instructor, will counter, "a little more to the left."
EVERY ORNAMENT HAS A STORY
Let's not get ahead of ourselves here in this holly, jolly Christmas season.
Before the Moravian star towering from above, there were all of those other Christmas tree ornaments, to include the ones from her globe-trotting days to Rome, Paris, London and just about every other foreign county between here and Timbuktu. And not to forget her late mother-in-law's handmade snowflakes that, so help me, Mary Thompson must have handcrafted from what had to be a snowstorm along Circle Drive like none other.
"Oh, this was my ornament when I was a little girl," she'll reminisce about her childhood of growing up in the red-brick, two-story home in Rockingham, and where her daddy spoiled rotten his firstborn, at least until that day when Virginia drove the family car into the side of the house and left the bricks scattered all over the driveway.
Don't forget the Nativity scenes and the Three Wise Men near the baby grand piano, either. "I got this one when I went to the Holy Land with Leighton and Edna McKeithen," she'll reminisce some more about her trip to Israel and the Holy Land.
There's a story behind every ornament – all 500 of 'em, and all of 'em hanging from a spruce-pine branch, including ornaments for daughter Claire, daughter Rebecca, son Frank, the grandchildren, and never to forget Larry, and Harry, too. When it comes to Christmas tree ornaments on this spruce, there's no social distancing for sure.
Before the ornaments, and the Moravian star on high, let me not dare forget those strands of lights that could illuminate the Market House downtown in the midst of a citywide power outage.
"Now, take this strand and wrap it here," the holiday-decorating drill instructor will order, "and then take that strand and go there, and plug it in to that strand, and take this strand and plug this strand into that strand."
It's like a recipe for self-electrocution.
Somewhere in the midst of this Christmas tree decorating, ol' Bill calls for a break in the action. "Where's that bottle of Belvedere?" ol' Bill asks the Christmas tree-decorating drill instructor. "You know, Belvedere, the vodka that's distilled five or six times. Not that cheap stuff. The one with the kick that all of the elves partake of when Santa and the reindeer head out from the North Pole."
GARLAND AND DISHES GALORE
You likely are getting the gist of the holiday season at the house overlooking Mirror Lake, where the wreath hangs on the front door and not far from the carport with another Moravian star, and you'll find ol' Bill's fingerprints on both in this holly, jolly holiday season.
And then there's the garland, and all of those red ribbons and glittery sparkles.
That would be the garland with the miniature, white lights that must be draped to perfection along the stairwell banister. And the garland over the dining room entrance that again requires the kitchen stool … and more vodka, this time replete with two jiggers, after the job is done.
But wait … there's more.
"I've got to get the Christmas china down," she says about the dishes with the Christmas tree pattern.
You'll find them on the top shelf of the hallway closet, she instructs … and I did, right up there - on the top shelf.
Ol' Bill had another shot of vodka.
All of this reminds me of several years ago when Mac and Linda Healy were part of the
Fayetteville Woman's Club's annual Christmas Tour of Homes.

"So, Mac, what are you and Linda planning to do for the tour?" I asked about the couple's decorations.
There was somewhat of a pause.

"I just do what Linda tells me to do," Mac Healy said.

BITTERSWEET

I love Christmas. It's bittersweet.
I lost my mother on Dec. 17, 2009, and I struggle with these holidays each season.
Still, at least for me, I enjoy the last-minute shopping before heading on Christmas Eve to visit Mama's grave at the little white church in Moore County, lighting a candle by her headstone and thanking God for giving me the blessing of a mother like mine.
Christmas Eve is poignant – the most serene night of the year, and then Virginia and I will head to Brownson Memorial Presbyterian Church in Southern Pines for the Christmas Eve candlelight service before heading home.

We'll later share a silver cup of eggnog, with a dash of Jim Beam bourbon, by the Christmas tree, and toast our mothers, and those lost in our lives but forever loved in our hearts. The moment is tender for the both of us … and the bourbon isn't bad.
"Can I open my Christmas present?"
Virginia's all giddy. "Please, Bill. Just one." Just a little one, I'll tell Virginia.
She's like a kid at Christmas, a little girl back in Rockingham long ago.
Then, we'll just take a moment by the fireplace, count our blessings and gaze at the Christmas tree in all of its holiday splendor.
"It's beautiful," I'll say. "Just beautiful."
The tree lights reflect off her green eyes, and our world is calm and peaceful.
Until …
"Is the Moravian star tilted on top of the tree?" the holiday decorating drill instructor wonders aloud.
The kitchen stool isn't far away. Neither is the vodka.From all of us here at CityView, a happy holiday season and Merry Christmas to all.

Contact Bill Kirby Jr. at bkirby@cityviewnc. com or 910-624-1961. Read more of Bill Kirby Jr. in our Insider Newsletter. Subscribe at cityviewnc.com.